Mercedes wants you to make new friends in this driverless Smart car of the future
Electric, autonomous Smart ForTwo is Daimler's answer to urban ride-sharing.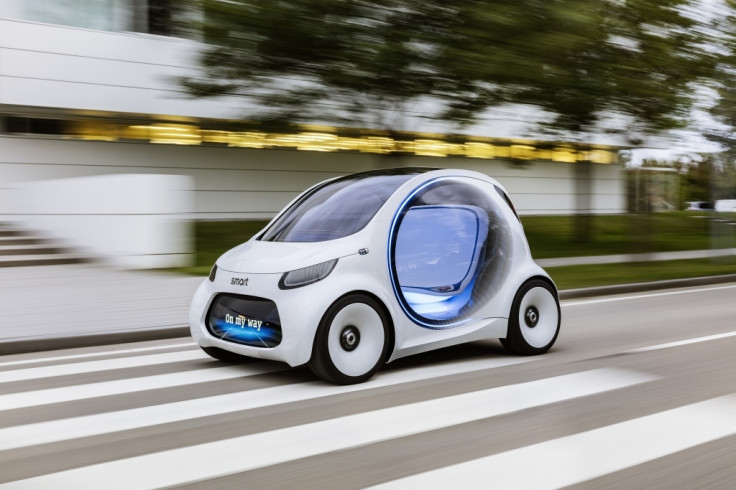 As futurists and technology companies begin to sketch out a future of pod-like electric vehicles picking up and dropping off passengers autonomously, a penny must have dropped at Daimler. The ForTwo, of subsidiary Smart, already looks like one of these cars.
A quick redesign - replacing the doors with large glass panels, adding a TV screen to the front bumper and pulling out the pedals and steering wheel - and we have the Smart Vision EQ ForTwo.
To be shown off in public for the first time at the Frankfurt motor show in September, the EQ ForTwo is an electric, self-driving vehicle designed to carry two passengers, who hail it from a smartphone app and are dropped at their location like extras from a sci-fi film.
The glass doors are described by Daimler as "projection surfaces" and are used to indicate to customers which car is theirs, in addition to a display on the front which can show messages to help passengers find their car - just as how Uber tells you your driver's number plate. The screen can also display messages for pedestrians, such as informing them when they can safely cross the road ahead.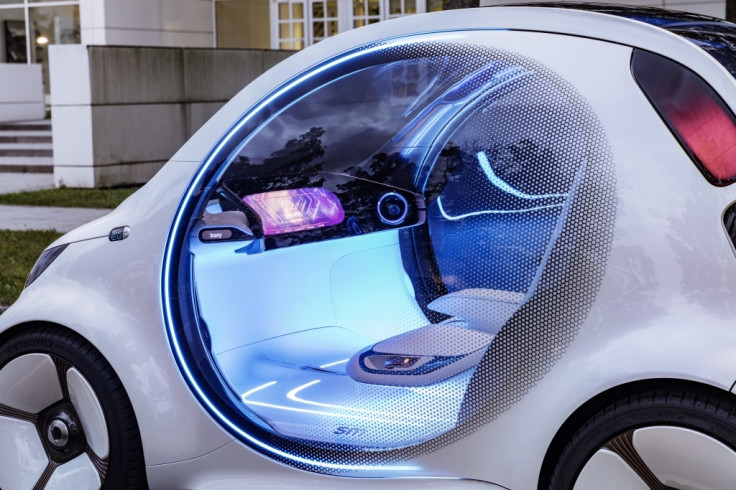 Given that there are no conventional car controls, passengers are invited to relax as the car takes them to their destination.
Passengers will have their own profiles connected to the ride-sharing service. These will help the system pair up compatible users to share journeys in the compact car. Daimler says: "When two passengers are on board, the large display in the interior shows shared interests such as concerts they have recently attended or sports that they play. The extra time gained as a result of traveling in an autonomous vehicle can be used to chat and interact."
Annette Winkler, chief executive of Smart, said: "The Smart Vision EQ ForTwo is our vision of future urban mobility; it is the most radical car sharing concept car of all: fully autonomous, with maximum communication capabilities, friendly, comprehensively personalisable and, of course, electric."
Although full autonomy is still some way off, the car sits on a well-defined road map for Mercedes to have over 10 new electric vehicles in mass production by 2022.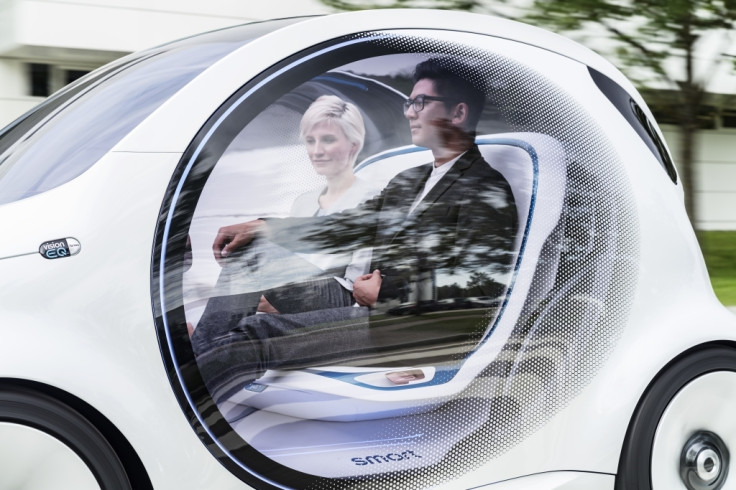 Such a ride-sharing system makes perfect sense for Mercedes and parent company Daimler, which owns a car rental and ride sharing company called car2go, through which a vehicle is hired every 1.4 seconds by its 2.6 million users. Mercedes expects this user base to have quintupled to 36.7 million by 2025.
Using what Daimler calls "swarm intelligence", the cars will know where others are, and where potential customers are, based on local demand. This means "it will probably already be nearby," the company says.
© Copyright IBTimes 2023. All rights reserved.