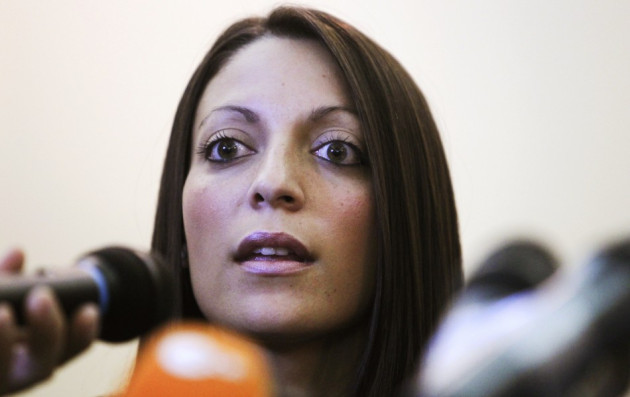 The sister of murdered student Meredith Kercher is to be named a woman of the year for showing "strength" in her efforts to fund a justice campaign.
Stephanie Kercher, 29, quit her job to join her family after Meredith's murder in Perugia, during a student exchange programme in 2007. She set up a fund last year to help her parents financially and also represented the family in Italy.
Now her continuing quest is to be marked at Cosmopolitan magazine's Ultimate Woman of the Year awards at the Albert Hall next year.
Louise Court, who edits the glossy title, explained the decision: "Since the death of her sister Meredith five years ago, Stephanie remains an inspiring figure of strength and support.
"Most impressive of all is her single-minded desire to ensure her sister isn't forgotten and to make sure her personality shines through any projects she undertakes."
Leeds University student Meredith was found beneath a mattress at a house in Perugia with her throat cut. Drifter Rudy Guede was jailed for 16 years for sexually assaulting and murdering her.
Upon setting up the trust fund, Stephanie published a letter in which she revealed first-hand the pain and confusion relations suffered in the wake of her sister's death.
"Through tears [dad] told me the name he had been given by a newspaper was Meredith," she recounted. "I cannot remember what I thought - it was a mixture of disbelief and sheer pain. I did not know what to think or do and then my body just sunk.
"When I arrived at Mum's the pain in my chest was unbearable as I was told the few details of what had happened - the broken window, her door locked on the inside.
"Thoughts and scenarios were racing through my head faster than I could comprehend and I collapsed into my parents' arms, filled with the fear Meredith must have endured that night.
We stayed up all night watching the news, waiting for any concrete information. The Halloween photo of Meredith was the first to appear and I spun round to Mum and said 'That's not Mez! That's not Mez, Mum!'
Amanda Knox and her then-boyfriend Raffaele Sollecito were convicted and then in 2011 acquitted of murdering Meredith. Knox has since penned a book deal worth a reported £4m.