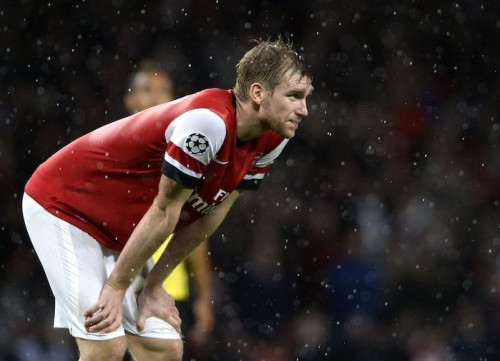 Per Mertesacker has revealed that Arsenal players were delighted at the prospect of Luis Suarez joining them last summer.
The Gunners had made a £40m plus £1 bid for the striker last summer but Liverpool rebuffed any advances made by the north London club and stuck to their decision to keep the Uruguayan at Anfield.
Arsenal will get a taste of what they missed on Saturday as they travel to Anfield in what is expected to be an important game in Arsenal's title race this season.
However, Mertesacker is not too unhappy at missing out on the star striker as they managed to sign Mesut Ozil on deadline day for a massive £42m from Real Madrid and whose arrival has completely changed Arsenal's season.
The Gunners are currently top of the league, two points ahead of Manchester City and Chelsea and a win here will take them five points clear at the top with the chasing pack set to battle later in the weekend.
"Suárez is like a cheeky boy, he looks like a cheeky boy who can really switch on and off how he wants to be, so that is really something. When he is on the pitch, what is going on around him doesn't bother him. He is just a pure striker and that is what comes out after the transfer requests and him saying: 'It's better for me to leave because I want to play Champions League.' When we heard that Arsenal might be interested in him, obviously we were up for it and we thought, 'Yeah, he would fit in.' But after, we got Özil," Mertesacker said.
The defender has revealed that he is talking about a new contract and will be more than willing to extend his stay at the Emirates.
"The first year wasn't that successful but, after that, with how the manager dealt with the situation and helped me to come back even stronger ... that is something very special so that's why my target is to extend my contract here. We are in good progress with the negotiations. It's up to the manager, of course, but I am really up for it," he concluded.