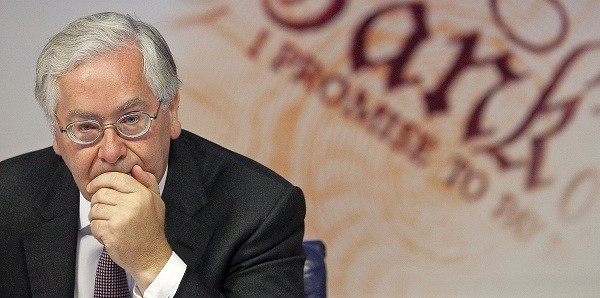 The Bank of England Governor Mervyn King had failed in a vote seeking extension to the bank's current asset purchase programme, as the majority of the Monetary Policy Committee were cautious about inflation expectations.
King is retiring on 30 June and will be replaced by the Bank of Canada Governor Mark Carney.
According to the minutes of the central bank's May 8-9 meeting, six members of the MPC, Charles Bean, Paul Tucker, Ben Broadbent, Spencer Dale, Ian McCafferty and Martin Weale voted to keep the current pace of stock asset purchases financed by the issuance of central bank reserves at £375bn ($570bn/€442bn).
The Governor, Paul Fisher and David Miles had preferred to increase the size of the asset purchase programme by a further £25bn to £400bn.
"There was evidence that expectations, including at long horizons, derived from financial markets had become a little more sensitive to short-term news on inflation in the past year than they had been previously, which could indicate that some market participants believed that the Committee had become more tolerant of inflation returning to the target more slowly," the bank said in the minutes.
"Financial markets were not expecting further asset purchases at this meeting and might, at the margin, reassess the committee's tolerance of elevated inflation should additional stimulus be injected."
In its quarterly inflation report published last week, the central bank officials projected that economic growth would accelerate to 0.5% in the second quarter from 0.3% in the first quarter. In line with the expected recovery for the economy, King had suggested further stimulus to boost growth.
The minority group was of the view that there was a large margin of spare capacity in the labour market, and additional monetary stimulus would fix slack in the labour market.
"Output growth was unlikely to be rapid enough to allow this margin to start to close over the forecast period," the minority said.
"Rebalancing was proving a greater drag on output in the euro area than previously thought, and persistent weakness there might lead to upward pressure on sterling."
At the same time, the MPC unanimously voted in favour of the proposition that the benchmark interest rate should be maintained at the record low of 0.5%.