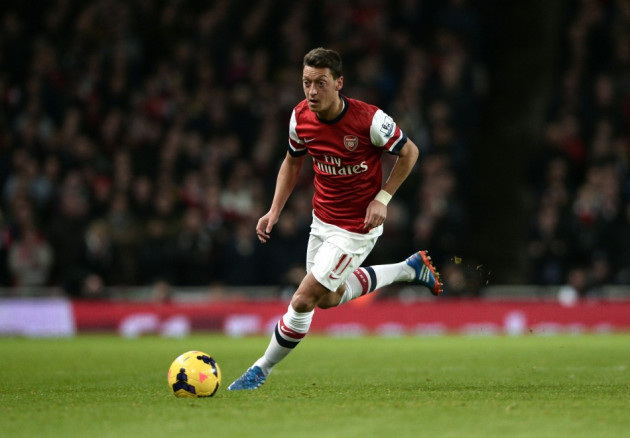 Arsenal midfielder Mesut Ozil says Carlo Ancelotti left him no choice but to leave Real Madrid in the summer transfer window.
Ancelotti admitted after the summer window that Ozil was sold following the signing of Gareth Bale for a world record fee from Real Madrid, with the Italian preferring to retain Angel di Maria.
Ozil has since inspired Arsenal to the Premier League summit since his move on deadline day and the German international says that once he lost faith in Ancelotti - appointed to replace Jose Mourinho in the summer - there was no going back in his Bernabeu career.
"It is very important for me that the coach shows faith in me and believes in me," Ozil told TF1.
"I had no doubt that I would stay at Real Madrid when last season came to an end. But then something happened and I no longer had the coach's trust. At Arsenal on the other hand, I feel the exact opposite."
With three goals and five assists in 11 appearances for Arsenal since moving from the Spanish capital, Ozil has inspired his new side to the top of the Premier League and following the weekend win over Liverpool hopes the north Londoners can sustain their form have been reinforced.
After a summer of frustration manager Arsene Wenger made one of his highest profile signings on deadline day, smashing the club's record transfer fee to sign Ozil and the investment has already proven dividends.
And Wenger has explained how previous contact with Ozil made the deal happen.
"Last summer, the first contact was in my home," the Gunners boss said. "It was fairly quiet. He took a decision in almost 24 hours. After that, carrying out the transfer and the decision was fairly quick.
"I tried to get him before he moved to Real [in 2010]. It was between them and us at the time. He called me and he told me that he had chosen Real, but he told me he would have also liked to come at us.
Paris were also interested last summer. And the advantage I had was that I had contacted him before he went to Real."