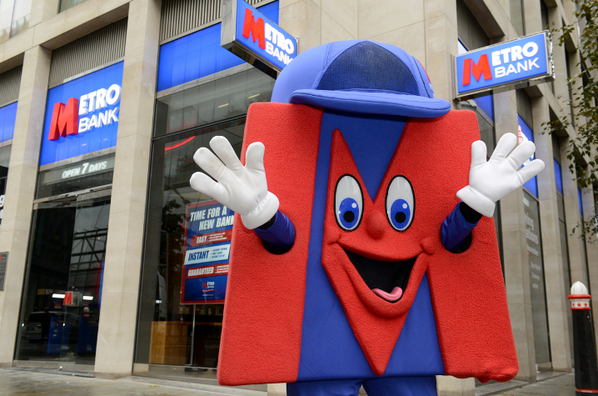 Metro Bank and peer-to-peer (p2p) lender Zopa have agreed on a deal which allows Metro Bank to lend money through the platform.
The deal makes Metro Bank the first British bank to use a p2p platform to lend funds to customers.
P2p websites like Zopa directly connect borrowers and lenders. P2p lending means there is no mediator between these two parties.
These websites often offer appealing rates, but the risks of p2p lending are a lot higher than using a bank.
The Consumers' Association (known as Which?) granted Zopa, the oldest p2p lending platform in the world, a 66% customer score, compared with 58% and 67% for direct rivals Funding Circle and Ratesetter respectively.
Giles Andrews, co-founder and chief executive of the lender, said the move was exciting and that he believes both companies share the same values.
"This is another milestone for Zopa and the p2p industry as this partnership brings together two key challengers to the traditional financial services landscape and signals our intent to become a mainstream service," Andrews said.
Zopa, which was founded in 2005, has facilitated over £750m (€1.4bn, $1.2bn) in loans.
"The partnership we have with Zopa is a cultural fit that works perfectly with our commitment to providing a convenient and customer-focused banking experience and we look forward to working with them closely," Metro Bank's chief executive Craig Donaldson said.
The deal introduces Metro Bank, a challenger of the traditional finance market, to the £6.6bn p2p business.
David Mann, head of money at price comparison company uSwitch, said that the move might be a turn off for prospective investors but both parties could profit from the deal.
"This could be a win win – Metro Bank could benefit from the traditionally high returns peer-to-peer lending can offer and there will be more cash in the pot for borrowers. For those locked out of loans from the traditional 'Big Four' banks, peer-to-peer lending can offer a much needed alternative, preventing them from resorting to payday loans," Mann said.
"Seeing a challenger bank invest may also allay some of the fears people have and be a green light for anyone looking to boost their savings by investing their money into peer-to-peer lending."