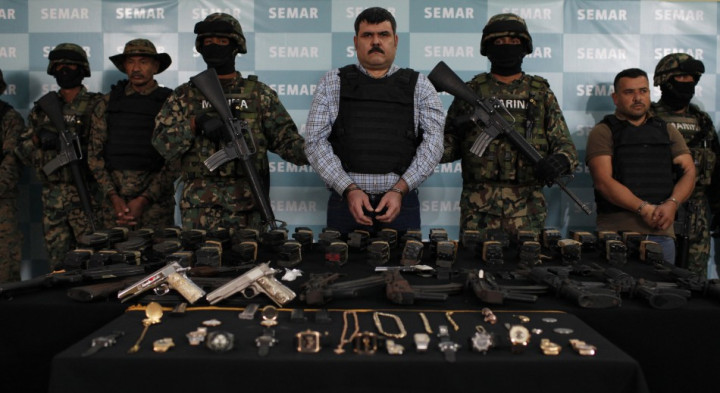 Mexican authorities have struck the second decisive blow to the Gulf Cartel, one of the country's biggest drug trafficking organisations, in a matter of days, after arresting the clan's leader, 'El Coss'.
The gang boss, whose real name is Jorge Costilla, 41, was captured by the Mexican Navy a few days after the apprehension of the Cartel's other head, known as 'El Gordo'.
One of Mexico's most wanted, Costilla was arrested in his home in Tampico, north-eastern Mexico - one of the Cartel's strongholds.
Thirty marines surrounded the building early in the evening, officials said. Costilla didn't put up a fight and was arrested together with five other members of the clan.
The navy seized two rifles, four guns and numerous pieces of jewellery in the raid.
Like El Gordo before him, El Coss was paraded in front of the media after his arrest, flanked by armed marines wearing balaclavas.
Major coup
The detention of El Coss is one of the greatest coups for the Mexican authorities since President Felipe Calderon launched a war on drug cartels in 2006.
Mexican authorities believed him to be the joint chief of the Gulf Cartel criminal organisation, with responsibility for drug trafficking operations in the US and Latin America.
A reward of up to 30m pesos (£1.5m) was put on his head by the Mexican government, while the US State Department had promised up to $5m (£3m) for any information leading to his apprehension.
According to Mexican officials, El Coss became the boss of one faction of the Gulf Cartel when the former leader Antonio Ezequiel Cardenas Guillen - known as 'Tony Tormenta' - was shot dead in a gunfight with marines in 2010.
Following the death of Tormenta the Gulf cartel split into two groups, one led by El Coss and another by Tony Tormenta's brother, Mario Cardenas Guillen, alias El Gordo, who was arrested a few days ago.
Both El Coss and El Gordo were captured by the Mexican Navy. According to analysts, the naval corps is the least corrupted of all Mexico's armed forces, and enjoys the closest ties with the FBI.
New blow for Cartel
The twin arrests of El Coss and El Gordo are major blows for the Gulf Cartel, thought to be Mexico's third most powerful criminal organisation.
The clan, which is based just across the border from Texas, is one of Mexico's oldest criminal syndicates and is believed to be active in four different continents.
However it has been severely weakened by a turf war with opposing clan Los Zetas in the last two years.
Formed by former members of Mexico's Special Forces, Los Zetas were once part of the Gulf Cartel. After spliting from the Cartel in 2010 they soon overturned the power relationship with their former employers, and the feud is ongoing.