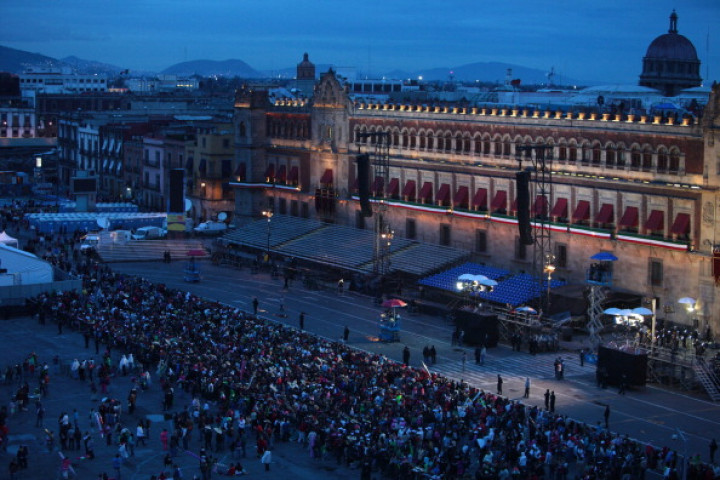 Thousands of Mexicans are set to celebrate Independence Day on 16 September.
This day, known by the locals as "El Grito" - which translates as "the cry", or "the shout" -commemorates the start of the revolution which led to independence from the Spanish domination of the country in 1821.
Why El Grito?
In 1810, Mexican people were planning a revolution against Spain.
However, one of the main promoters of the revolution, Miguel Hidalgo y Costilla - the pastor of a parish in the city of Dolores – was informed that the Spanish government had found out about the plans to rebel.
Fearing repercussions, Father Hidalgo called a meeting at his church, where he rang the bell on the night of 15 September 1810, calling people to start the revolution.
Hundreds of Mexicans gathered in the courtyard of the church in the morning of 16 September, and Father Hidalgo gave a speech known as "Grito de Delores" or "Cry of Dolores", where he incited the population to fight for independence by shouting "Viva Mexico", "long live Mexico", and "Viva la independencia", "long live independence".
After eleven years of civil war, representatives of the Spanish crown agreed to sign the Treaty of Córdoba, which recognised Mexican independence, on 24 August 1821.
The following month, the Army of the Three Guarantees entered Mexico City and the rebels proclaimed the independence of the Mexican Empire.
Father Hidalgo was killed by Spanish troops in 1811. He is still regarded today as the father of Mexico.
How do Mexicans celebrate?
Celebrations of Mexican Independence start on 15 September.
Hundreds of people gather outside to eat together and streets are adorned with flags, flowers, and red, white and green lights, echoing the colours of the Mexican flag.
People sell food, whistles and horns and everybody celebrates until eleven in the evening.
At this time, the president steps out on the balcony of the National Palace, in Mexico City, and rings the historic bell, which was brought from Dolores to Mexico City by order of President Porfirio Diaz.
The president then shouts "Viva Mexico" and "Viva la independencia" and delivers a speech to the nation.
The following day, 16 September, is a patriotic holiday in Mexico and therefore schools and many businesses are closed.
This day is marked by rodeos, parades, bullfights and shows, and statues in memory of Father Hidalgo are decorated with red, white, and green flowers.