Mexico: Local mayor marries crocodile in hope of good harvest [video]
The local mayor of a fishing town in southern Mexico has got married to a most unusual bride. Vasquez Rojas, the mayor of San Pedro Huamelula, wed a crocodile as part of a local harvest tradition.
The ritual sees the reptile baptized with a name before being married. It's a tradition that has been practised by Chontal Indians since 1789, in the hope that the fisherman of the village catch a good harvest of shrimp, fish and other seafood.
Gulenio Gonzalez, the 'godfather' of the crocodile, explained the ceremony:
"It is to ask from the heart to our Lord, to make this year one of the best harvests, so that we don't lack natural resources such as corn, and food from the water such as fish, which is the main source of food for people in our community," he said.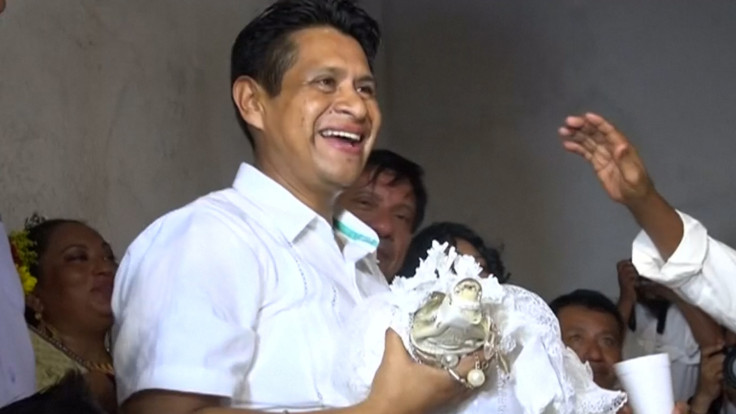 After the crocodile, christened Maria Isabel, was married, she danced with her new husband in a party packed with the town's residents. Mayor Rojas said he was delighted to take part in the festivities.
"Indigenous people have great faith and many beliefs, many myths, especially a lot of mysticism. To be part of that pact between animals, humans, the environment, represented today with the celebration of this marriage, is a privilege that not everyone can have. I feel very lucky," he said.
Not only is the crocodile now married, but she is also regarded by tradition as a princess. The Chontal Indians hope that the ceremony will bring peace and prosperity to their community.
© Copyright IBTimes 2023. All rights reserved.