The 28 bodies found in a mass grave in Mexico do not belong to some of the college students who went missing from Iguala, Guerrero state, on 26 September, according to the country's attorney general.
The 43 youths, from Ayotzinapa Teacher Training College "Raul Isidro Burgos", disappeared after clashes with police who shot at a bus that they claimed had been hijacked by the students.
The discovery of several mass graves fuelled fears that the students were massacred by drug cartels and corrupt police.
Last week, two hitmen confessed to executing 17 of the students and dumping them in the mass grave containing 28 bodies. But Mexico's attorney general Jesus Murillo Karam said DNA tests showed that the corpses are not those of the missing group.
The results gave hope to families that the students were not executed.
However, Karam said further tests were being carried out on four other recently discovered grave sites.
He added that at least 50 suspects, including more than 14 police officers who confessed to being linked with the disappearance, were arrested.
The policemen are believed to have handed the students over to a drug cartel known as Guerreros Unido, or United Warriors.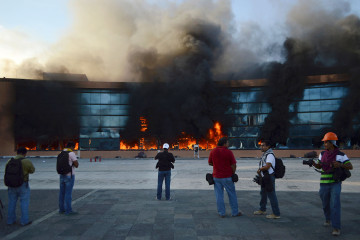 Benjamin Mondragon Pereda, an alleged leader of the cartel, killed himself during a confrontation with authorities on Tuesday [14 October], a day after protests urging the government to step up the efforts to find the students culminated with the burning of a state building in Chilpancingo, the capital of Guerrero.
Authorities said it was unclear whether Mondragon Pereda was involved in the students' disappearances.
President Enrique Pena Nieto said the disappearances "are without doubt a topic that will lead the Mexican government at all levels to take actions that will prevent events like those in Iguala from ever occurring again".
Police are also looking searching for the fugitive mayor of Iguala, Jose Luis Abarca, his wife, and the local head of security.