Mexico Drug Cartel Knights Templar Linked to Execution of Seven Men Dumped on Chairs at Roundabout [PHOTOS]
Macabre display of blindfolded bodies of alleged criminals killed by vigilantes points to warring drug gang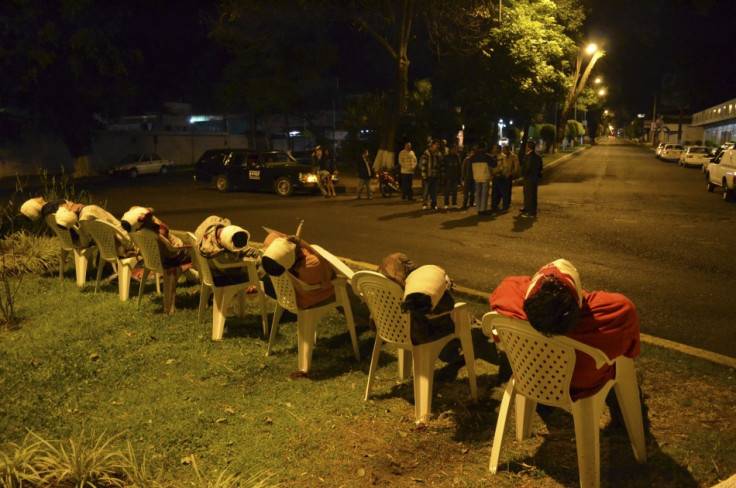 The bodies of seven blindfolded men who had been executed by vigilantes or a drug cartel have been found propped up in plastic chairs on a busy roundabout in Mexico.
The men were found with their hands tied and bullet holes in their heads on the roundabout in Uruapan, west of Mexico City.
Two of the bodies had notices pinned to their chests with an ice pick. The message read: "Warning: This is going to happen to all muggers, pickpockets, kidnappers, rapists and extortionists."
According to Borderlandbeat.com, the state attorney's office identified four of the seven victims as Santiago Ramos, 31, Jorge Téllez, 28, César Órnelas 17, and Alberto Vega, 29.
Téllez and Órnelas had worked as windscreen washers in the city.
Michoacan state spokesman Jesus Garcia said the killings were linked to drug trafficking and insisted they were "isolated incidents".
The executions have shown a resemblance to a recent slew of killings involving the drug cartel known as the Knights Templar.
An offshoot of the cartel La Familia (The Family), it has been involved in a turf war with the Michoacan Family for months.
In September, a suspected rapist was found crucified naked on a road sign in Contepec in southwestern Mexico.
The victim's arms had been tied to a wooden pole and his penis cut off and stuffed in his mouth.
A message was pinned on his body with ice picks. This message read: "This happened to me for being a rapist and it is going to happen to all the scandalmongers, traitors. Be aware that this is not a game."
At around the same time, 16 bodies were discovered blindfolded with their hands and feet tied with ropes.
The words "I am a Knight Templar" were written with a felt tip pen on the chest or on the back of some of the victims.
Nearly 70,000 people have been killed in drug-related violence in Mexico in the last seven years.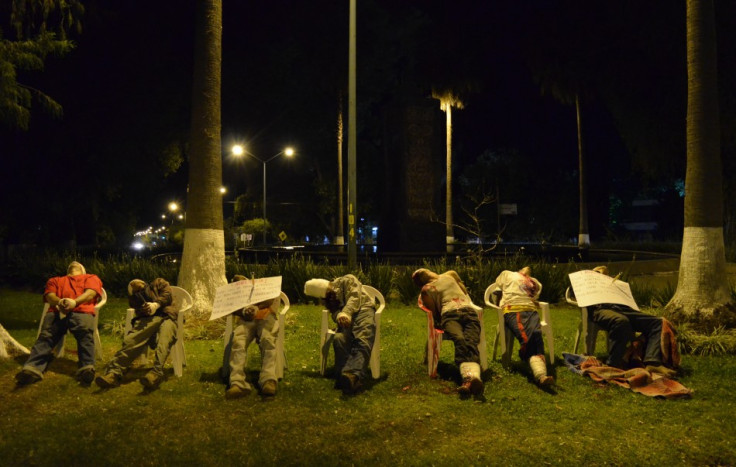 © Copyright IBTimes 2023. All rights reserved.