British and American intelligence agencies spied on Nelson Mandela before he was jailed for life in 1964, an African National Congress bombmaker has said.
Denis Goldberg, a communist and bombmaker for the anti-apartheid political party, made the claims 50 years after he was arrested by South African police during a raid on Liliesleaf Farm in July 1963.
Mandela had hidden at the farm with other ANC leaders for a year before his initial 1962 arrest. He was first charged with inciting workers' strikes and leaving the country without permission.
The man who would go on to become an anti-apartheid icon planned to use the 1962 trial to show how the ANC was opposed to racism. He was eventually found guilty and sentenced to five years in prison.
However, the following year police raided the farm and arrested the ANC members found there.
They said they found paperwork involving Mandela that showed plans to overthrow the government and the Rivonia Trial began.
Mandela was found guilty of four counts of sabotage and conspiracy to overthrow the government and sentenced to life in prison.
According to the Daily Telegraph, Goldberg said he believes the MI5 was spying on Mandela and the farm before it was raided.
Speaking at an event to commemorate the raid, he said: "We believe that there was a British intelligence agent in the nearby caravan park. Everyone thought he was a birdwatcher because he would climb up a telegraph pole with binoculars every day. But I think we were the birds he was watching."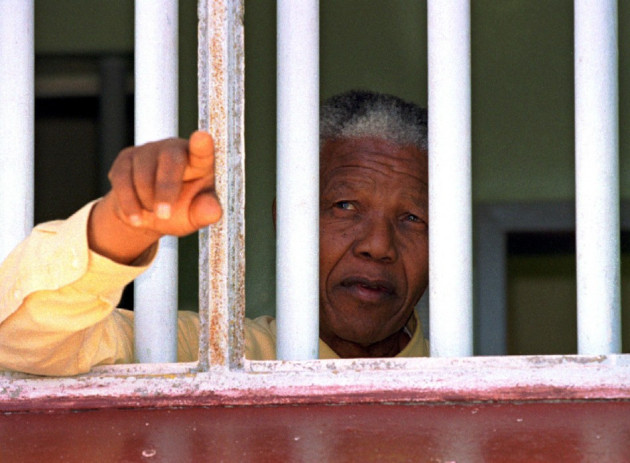 The CIA has been suspected of providing information leading to Mandela's detention for years, but British intelligence has very rarely been implicated.
Sir Bob Hepple QC, who fled to England after being released on bail following the Liliesleaf raid, agreed that British intelligence agencies helped in Mandela's incarceration.
"We know that MI5 and the South African police collaborated," he said. "When I arrived in Britain and had to claim political asylum in December 1963, I was interviewed by a Home Office man who was clearly MI5. It was clear he knew things he could only have got from the South African police."
Nicholas Wolpe, the son of another man detained in the raid, agreed that a 'birdwatcher' had been spying on them, but could not say if they were British.
"A woman living near to the caravan park was a great birdwatcher and she reveals always seeing two guys up a telephone pole with binoculars. She only put two and two together after the raid.
"No British name crops up in the research I have done. If the British were monitoring what was happening, which I think they were, they were being very discreet about it."
Mandela was eventually released in 1994 and went on to become South Africa's first democratically elected president.
He is currently in a critical but stable condition in hospital after being admitted with breathing difficulties on 8 June.