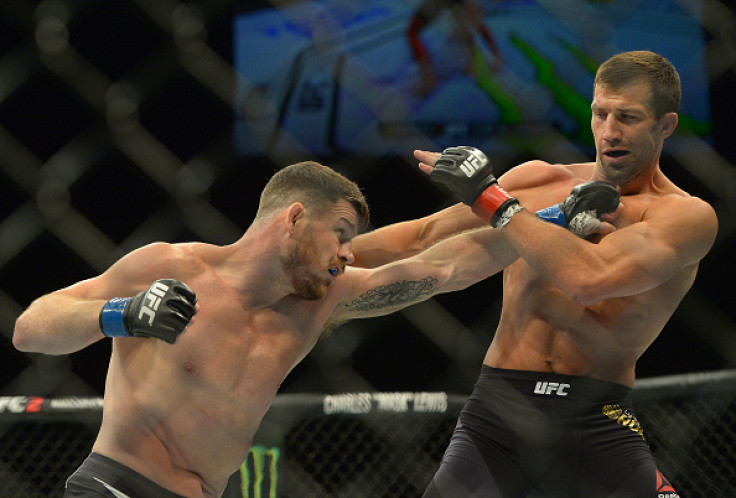 Current UFC middleweight champion Michael Bisping does not think long-time rival Luke Rockhold will be back anytime soon.
Bisping won the belt from Rockhold at UFC 199 in June 2016 in a first round upset, gaining revenge following his first loss to the American at UFC Fight Night 55 on November 2014.
"The Count" has since defended his title against Dan Henderson at UFC 204 in October 2016 and is expected to defend the strap against Yoel Romero in May 2017.
However, the Briton is also being touted as a potential opponent for the returning Georges St-Pierre as well.
Meanwhile, Rockhold was expected to face UFC 208 star Jacare Souza in November 2016 but had to withdraw due to an ACL injury. Nonetheless, Rockhold wants to face Souza in the summer of 2017, also going on to call Bisping a coward, amusing the middleweight champion.
"What is Luke Rockhold doing?" Bisping said as quoted on MMAFighting. "When did he say he's going to fight again? What are his plans?"
"I do believe we are now almost in March. That fight was in June [2016]. I don't know what happened there, but I think I took his soul. I don't think we'll ever see Luke Rockhold again. I beat the s**t out of him.
"I don't know, I think he's done. The way he went down, I think so. Why hasn't he fought again? A lot of time has passed. If that were me, I would've been right back in there."
Bisping also went on to take a jab at Rockhold's recovery time as the latter stated a summer return would be ideal.
"So it's not bad enough that he needs surgery, but he needs, what, he needs nine months to go travel the world and be a playboy?" he added. "That doesn't sound like a man who wants to be champion again to me."
Rockhold is not the only middleweight fighter Bisping has had words for, as he recently said he believed Anderson Silva was tarnishing his legacy following his performance at UFC 208.