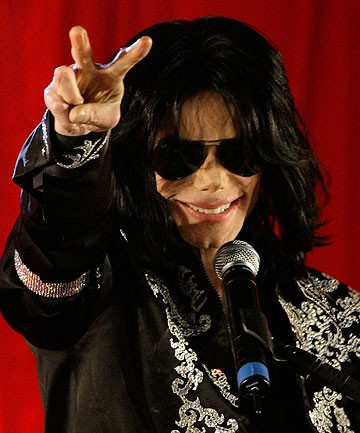 The trial examining the death of Michael Jackson begins Tuesday, with his doctor Conrad Murray accused of involuntary manslaughter.
The doctor, 58, is accused of giving Jackson an overdose of a powerful sedative propofol, which Jackson reportedly referred to as "milk," to help ease his insomnia.
Propofol is a heavy-duty drug commonly used as an anesthetic during surgery.
Murray, who was hired by Jackson just six weeks before his death, has never denied administering the drug to him, but denies having "abandoned his patient" at the fatal moment, reports AFP.
The trial will take place in Los Angeles Superior Court, where prosecutors and defence lawyers will make their opening statements and a jury of seven men and five women, most avowed fans of the later singer, will decide Murray's fate.
The prosecution accuse Murray of gross negligence in giving Jackson propofol at his Los Angeles mansion without correct life-saving equipment available, and say the doctor then left the room before returning to find his patient not breathing.
Defence lawyers will argue that Jackson, desperate to cure his insomnia, took an extra dose of the drug when Murray was out of the room.
The argument is backed by the account Murray gave to the police that he had been trying to wean Jackson off propofol and gave him only a minimal dosage, then left the room for five minutes to use the bathroom.
AFP reports that the trial was originally to start in March, but was delayed twice. The judge has rejected requests by the defence to let Jackson's former doctors to testify, hoping it would prove Jackson was a drug addict.
Witnesses listed in the trial include Jackson's siblings Janet, LaToya, Jermaine, Marlon, Rebbie, Tito and Randy as well as parents Katherine and Joe Jackson.
Surprisingly, Jackson's children Prince, 14, Paris, 13, and Blanket, 7, are also included on a potential witness list, the purpose of which is for jurors to attempt to gauge their familiarity with the family.
According to Radar Online, Prince and Paris have informed their grandmother Katherine of their intentions to testify, but agree that their younger brother Blanket is too young to take the stand.
But their aunt LaToya, who believes her brother was unlawfully killed, has said it would be good for the children to "get what is inside them, out of them. She feels it is a way for them to release the hurt," writes the Mail Online.
But they may never testify, as their 81-year-old grandmother is concerned about the effect the ordeal will have on them.
A source close to the family said, "Katherine is resisting the move, because she knows how traumatic it would be for them," according to the Mail Online.
The first witness expected to be called is Kenny Ortega, the producer of Jackson's "This Is It" shows, which were intended to be a 50-night comeback tour.
Murray had previously told police that he had been trying to wean Jackson off propofol and gave him only a minimal dosage, then left the room for five minutes to use the bathroom.
Murray has pleaded not guilty, but if convicted, faces up to four years in jail of involuntary manslaughter over the 50-year-old singer's death on June 25, 2009.
The trial is expected to last five weeks and will overlap with a tribute concert dedicated to the late Michael Jackson created by several members of is family, taking place Oct. 8 in Cardiff.