Michaella McCollum and Melissa Reid to Face Peru Drug Smuggling Charges [VIDEO]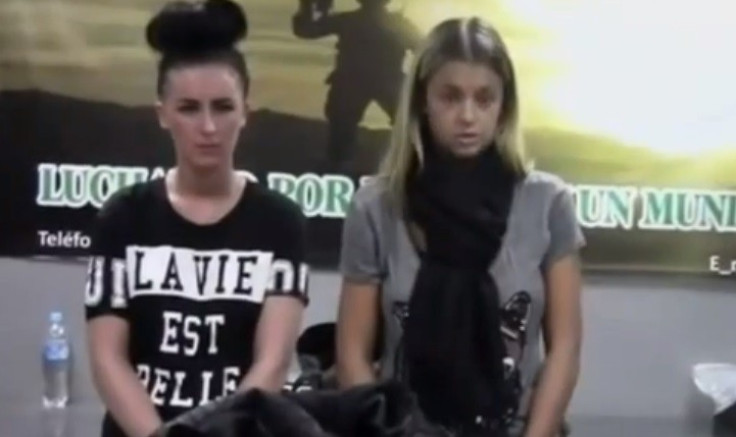 Two British women accused of attempting to smuggle £1.5m in drugs out of Peru are expected be formally charged.
Melissa Reid, 20, from Lenzie, near Glasgow, and 20-year-old Michaella McCollum from Dungannon, Northern Ireland, were arrested in the Peruvian capital of Lima after police found more than 11kg (24.2lbs) of cocaine in their luggage.
The pair were arrested as they attempted to board a flight to Madrid. Both women claimed that Colombian drug traffickers had threatened to kill them if they did not carry the bags onboard. They said they did not know the contents of the bags.
Police said they could serve only two years in jail if they pleaded guilty. If refused bail at the next hearing, they face up to three years in jail even before their trial begins.
Police questioned the veracity of photographs of the woman said to have been taken in Lima. The pair said they were forced to take pictures of themselves together to convince border control officers and hotel staff that they were ordinary friends travelling together.
Reid and McCollum had told police that they had not met each other until they were kidnapped by a South American drug cartel and separately taken to a safehouse in Madrid before being flown to Peru.
Peruvian said that the pictures may have been taken in Ibiza because they were photographed in their swimming gear and it was too cold to swim in Peru.
A police source told the Daily Mirror: "They both say they did not know each other in Ibiza and that they only met in a safe house in Majorca before being flew to Peru.
"While in Palma they claim they stayed in the house of the cartel.
"It was only when police looked at the pictures on their camera they began to question where they had been taken.
"We are in the middle of our winter here in Lima and temperatures are running quite cold.
"It appears odd they are both in very thin beachwear."
Detectives were also examining CCTV footage believed to show the women walking freely around Lima on 5 August, despite their claims they were held at gunpoint that day.
© Copyright IBTimes 2023. All rights reserved.