Michelle Obama calls out Donald Trump for Barack 'birther conspiracy' and comments about women
The first lady also appeared in her first campaign spot for Democratic nominee Hillary Clinton.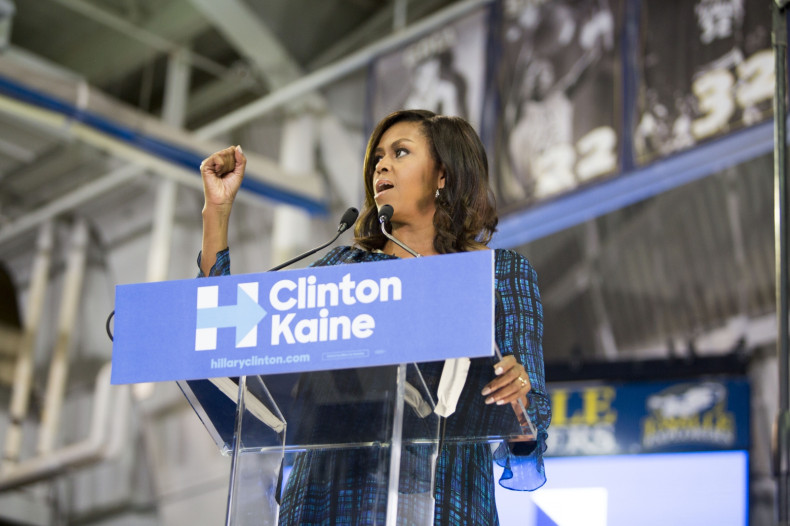 Democratic nominee Hillary Clinton brought out one of her biggest campaign weapons, just days after the first 2016 presidential debate: First Lady Michelle Obama. The first lady appeared in a TV ad for Clinton and also took to the campaign trail to highlight why Clinton's opponent, Donald Trump, is not the right person for the job.
In a campaign stop at La Salle University in Philadelphia, Obama told Clinton supporters, "When making life-or-death, war-or-peace decisions, a president can't just pop off or lash out irrationally...We need an adult in the White House. I guarantee you."
Obama also took issue with Trump's insistence that her husband was not born in the US, known as the birther movement. Trump recently tried to put a close to that chapter by shifting the blame towards Clinton and insisting that he ended the conspiracy theory, not prolonged it.
"There are those who questioned and continue to question for the past eight years whether my husband was even born in this country," Obama said. "And let me say: hurtful, deceitful questions deliberately designed to undermine his presidency. Questions that cannot be blamed on others or swept under the rug by an insincere sentence uttered at a press conference."
According to CNN, the first lady also slammed the "name-calling" and "negativity" surrounding the 2016 presidential election.
"So if a candidate is erratic and threatening, if a candidate traffics in prejudice, fear and lies on the campaign trail, if a candidate thinks that not paying taxes makes you smart or that it's good business when people lose their homes, if a candidate regularly and flippantly makes cruel and insulting comments about women—about how we look, how we act—well, sadly, that's who that candidate really is," she said.
Obama added: "Experience matters. Preparation matters. Temperament matters. And Hillary Clinton has it all. She's the real deal."
In her first campaign ad for Clinton, released on Wednesday (28 September), Obama highlighted why Clinton will make a good president, USA Today reported.
"Hillary will be a president our kids can loop up to. A president who believes in our kids and will fight for them every day. That's why I believe in her," she says in the video.
Clinton is working hard to regain momentum in her campaign and to retake the comfortable lead she held over Trump during the summer. A recent general election matchup by Reuters/Ipsos shows her ahead by six percentage points, but a survey by the LA Times/USC Tracking - released the same day - shows the GOP nominee up by four percentage points.