Microsoft's inability to innovate Windows Phone means Nokia is struggling and clinging on for dear life in the highly competitive smartphone world.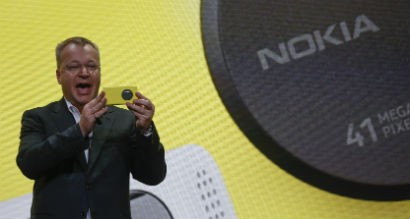 On 9 February 2011, Stephen Elop, CEO of Nokia, sent a memo to all staff, outlining what he saw as his vision for the company's future.
In the memo, Elop recounts an allegory about a man standing on a burning oil platform who is faced with two choices. Stay on the platform and be consumed by flames, or jump 30 metres into the icy-cold, turbulent and foreboding sea below. In the real world this choice boiled down to: stick with Symbian and die or take a chacne and jump into bed with Microsoft and Windows Phone.
The problem is that Elop seems to have missed a trick here. There was a third option - an inflatable dingy which could have seen the man safely to dry ground and prosperity. The dingy was called Android.
But Elop hadn't seen the dingy and instead jumped straight into the icy cold waters of Microsoft and Windows Phone.
Two and a half years on and Elop and Nokia are struggling to remain afloat in those choppy waters and although it reported record sales of Windows Phone devices on Thursday, its decision to partner with Microsoft has effectively killed the once mighty Finnish giant.
Colossus
Choosing Microsoft over Google's Android operating system seemed an odd decision even in 2011. Today it seems like the decision of a demented madman.
Android bestrides the world like a smartphone colossus, selling as many smartphones in five days as Nokia sold Lumia smartphones in the last three months. It has close to one million apps available in its Google Play store while the Windows Phone Store still resembles supermarket shelves after a nuclear fallout has been announced.
The problem for Nokia is that is has backed the wrong horse.
Last week Elop tried to justify the decision by saying that Nokia did consider Android but saw that it was likely to be dominated by one manufacturer - Samsung - and this would affect any negotiations it would have with carriers - which is a key factor to get your phones into people's hands.
Take the money
Elop and his Nokia team should be commended for at least getting this right. Samsung today is the face of Android, and is the only manufacturer making any profit from the operating system. But the lack of conviction to say: "Nokia phones are the best phones out there and people will recognise that" was a mistake. It was just easier for Elop to take the money from his old employer and team up with Microsoft.
However side-stepping Android has not proved to be a better choice for Nokia and Elop.
Nokia has always produced some of the best built and most innovative smartphones on the market and the Lumia 1020 which launched last week features a remarkable 41 megapixel sensor. But as Ian Fogg, Head of Mobile at IHS Screen Digest says: "Smartphones are about the content and services that consumers use, that's what makes a smartphone smart."
Speed of innovation
Fogg says the speed of innovation of Windows Phone software, or more precisely the lack of it, has held Nokia back since it launched its first Windows Phone smartphone.
"[The software] has changed fairly little since Windows Phone 7 launched back in August 2010, and the difference between Windows Phone and Android, or Windows Phone and the iPhone in [terms of] software has widened in that period, not narrowed. One of Nokia's biggest challenges is that Microsoft is not innovating quickly enough."
There is a simple way to see whether or not Windows Phone is seen as a viable platform. Ask yourself, besides Nokia, who has tied itself irrevocably to Microsoft, which other smartphone manufacturers are making Windows Phone devices?
Go to the official Windows Phone page and you'll get your answer. HTC, Samsung and Huawei are the only manufacturers who feel confident enough to even produce a smartphone using the operating system.
More depressing
The story is even more depressing for Nokia when you realise that the single Samsung smartphone on the list has never been offered for sale by any of the UK's mobile phone networks, which tells a story in itself.
Just as Samsung is Android; for all intents and purposes Nokia is Windows Phone. But for all the Finnish company is doing to push the brand and the platform, it has absolutely no control over its development or direction - having to rely on Microsoft who have shown little interest in really pushing it.
Microsoft is a software company and therefore you would expect them to be able to innovate and develop Windows Phone. However the company has shown that when it comes to mobile, it just hasn't been able to get it right.
From the failed Windows Mobile platform to the $900 million write down on Surface RT tablets, the company is struggling to make the transition into the post-PC era.
"Glimmers of hope"
Fogg sees "glimmers of hope" for Nokia but says they need to ramp up volumes from current quarterly smartphone shipments of 7.4 million to " shipping 10, 20 million a quarter at least to get to scale in the market."
Carolina Milanesi from Gartner agrees that smartphone volumes are going in the right direction, but points out that the budget Lumia 520 and mid-range Lumia 720 are the products driving growth, which is not good in terms of the key average selling price (ASP) metric:
"ASP and regional mix show how much Nokia needs to move from mid-range devices driving sales to having a true flagship product that will help with brand building and ASP. The [Lumia] 1020 will do that in the second half of the year."
Halo
Fogg agrees, saying the Lumia 1020 "boosts the appeal of the Nokia brand" and acts like a "halo" for other Nokia products.
And while it is true that the incredible camera gives users a reason to buy the Lumia 1020 over any other Windows Phone device, the problem remains that no one is looking to buy a Windows Phone device in the first place.
And unfortunately for Nokia, there is no escape. They are inextricably tied to Microsoft and such is the weight of the Redmond-based behemoth that it could very soon drag the venerable mobile phone maker under, never to be seen again.