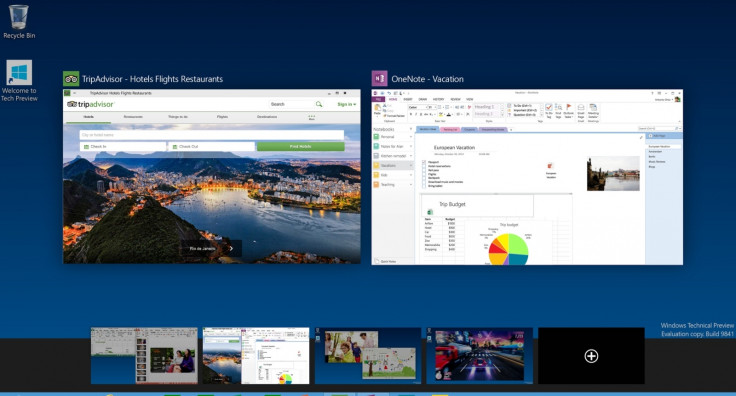 It is a known fact that Microsoft's most expected Windows 10 computer operating system will come with a brand new web browser that is tentatively codenamed Spartan. Various new features of the Spartan web browser have surfaced promise to give it a distinct advantage over competitors.
According to a Verge report, one major feature that users can check out for is Cortana integration. Microsoft's personal digital assistant (PDA) is also expected to make its debut on Windows computers when Windows 10 is released.
The Verge report also indicates the intuitiveness that Cortana integration will provide to users surfing the web.
The report says, with Cortana built into Spartan, users can get to know flight status directly by just typing in generic terms such as 'American Airlines' in the web browser's address bar, which will reportedly throw up a list of all flights along with details about their availability.
Once Spartan goes official, users should also be able to launch Cortana directly from within a brand new tabbed user interface offered by the browser.
The above aspect, should undoubtedly be the most important feature of Spartan. The web browser is also believed, according to The Verge, to provide a new web note functionality driven by the Redmond-based company's OneDrive cloud service.
However, finer details on how the new web note service will work, are yet to surface.
Finally, Spartan will also do its best to eliminate the cluttered interface experience, as a new feature that will dynamically let users group multiple tabs, will be offered by the web browser.
With this feature, users will be able to group tabs based on the work they do, for example group work-related browser tabs into one without disturbing the tabs opened up for personal browsing (also grouped together exclusively).
On paper, the above features sound amazing, but would require a real-world test once Spartan is official.
Spartan web browser replacing Internet Explorer 12?
According to a ZDNet report, Spartan will not be another iteration of the Internet Explorer web browser series.
The ZDNet report, quoting multiple sources, also hints at the possibility of the PC Windows 10 variant incorporating both Spartan and the latest version of Internet Explorer (currently 11). Spartan is also expected to be available on both the desktop and mobile operating platforms.
The Spartan web browser will be built using the Microsoft Chakra JavaScript engine, rather than WebKit, according to ZDNet's sources.
Windows 10 changes
Microsoft needs its upcoming Windows 10 operating system to resonate with consumers, and so it is implementing some big changes from the lacklustre Windows 8.
The Redmond-based company has made public its intention to include a brand new mini Start menu in Windows 10. The absence of the classic Start menu in Windows 8 was heavily criticised by users across the world.
Microsoft has a technology event scheduled for 21 January, when newer aspects of Windows 10 are expected to officially surface. Microsoft could throw more light on its new web browser, Spartan, during the same event.