Microsoft Windows 10, one of the most anticipated technology products of the year, is expected to be launched as a public release during the Fall. One of the key aspects of Windows 10 will be the OS fitting dynamically within the device that runs it.
The next iteration of the Windows Phone mobile operating system will most likely be called Windows Phone 10.
Now, a new screenshot rumoured to be that of the Windows Phone 10 user interface (UI) has surfaced via a Nokia Power User report which hints at an early design of the mobile OS.
The screenshot is said to have originated via a keynote of Microsoft's Joe Belfore during the TechEd Europe conference held last year.
Windows 10 for phones could be termed the Windows Mobile 10, according to the Nokia Power User report.
Take a look at the image that has surfaced of the apparent Windows Mobile 10, below.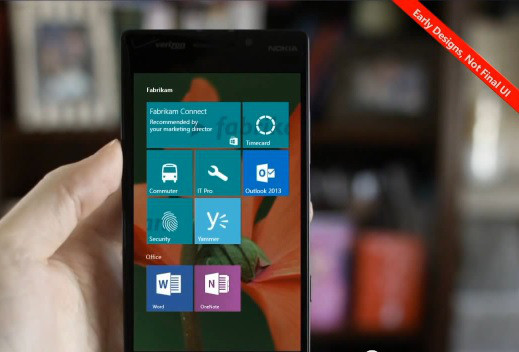 Observing the image, it is clear that full screen wallpapers will be supported in the mobile, just like the panoramic wallpapers that are featured across other operating platforms.
The list of features that the Windows Mobile 10 will offer haven't yet surfaced, but earlier rumours hinted at the possibility of the multi-window-support functionality for smartphones having screens measuring 4.7in or more.
Finally, a brand new user interface should also be featured by the Windows Mobile 10.
With Microsoft giving Windows 10 the works in terms of new functionality such as allowing booting to traditional desktop rather than keeping the Metro UI aspect intact, and the brand new mini start menu, the probability of a completely redefined user experience with Windows Mobile 10 can be expected by Windows Phone users.