The partially decomposed bodies of two children were washed ashore on an eastern Greek island, as authorities in southern Europe rescued thousands more migrants who tried to cross the Mediterranean before the journey is made even more perilous by the arrival of harsher weather conditions.
The Greek coastguard said it found the lifeless bodies of a six-month-old baby and a child aged between three and five on the island of Kos. The two were washed up on a beach in the tourist area of Lambi, on the island's northeastern coast.
Authorities said the bodies were in advanced state of decay and had probably been in the water for some time. The older of the two was dressed in blue trousers and a pink top, the coastguard said, adding it could not immediately confirm the children's identity or their sex.
The grim discovery marked a black period across the Mediterranean. In Libya, the Red Crescent said they recovered the bodies of some 95 people, who were similarly washed ashore near the capital, Tripoli, and the western city of Sabartha, a major hub for people smugglers, over the past week.
Red Crescent spokesperson Mohamed al-Masrati told AP most of the deceased were nationals from other African countries, although it was not immediately clear when they had died. High winds and rough seas were reported off Italian coasts in recent days, a mix that has often proved lethal for would-be-refugees.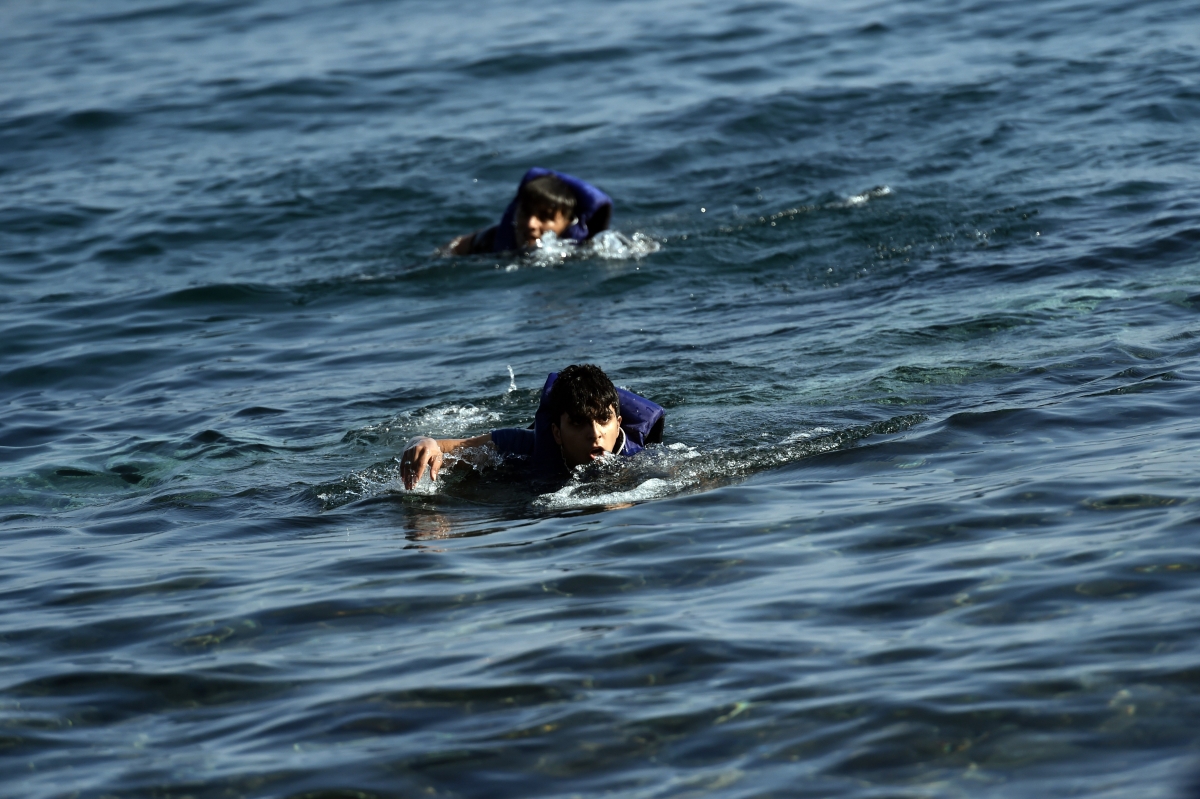 Almost 3,000 people have died in Mediterranean waters since January, while some 533,000 successfully reached European shores, according to the International Organisation for Migration (IOM). More than 90% of casualties have occurred on the so-called central route from Libya to southern Italy, which involves a longer navigation in open seas, as compared to the shorter crossing from Turkey to Greece.
There are fears that more deaths will come as weather conditions get worse with the approaching winter. Already the autumn months have often been marred by migrant tragedies. At the weekend Italy's southern-most island of Lampedusa observed the second anniversary of the infamous sinking of a migrant boat that took the lives of 368 people on 3 October 2013.
Meanwhile, the Italian coastguard said smugglers have exploited a window of bettering sea conditions to launch more vessels, with three boats carrying a total of 777 migrants intercepted off Libya over the last two days. Video footage released by the coastguard showed 60 of them crammed in the front of a small fishing vessel salvaged only a few miles from Lampedusa.
In Greece, authorities said they rescued 1,743 asylum-seekers over the weekend of 3-4 October in 57 separate operations across the Aegean Sea. Another 12 boats carrying 301 migrants that had left from Morocco have been retrieved by Spanish rescue services over the same period.