German authorities warn that they are at the country's "limit" to welcome migrants, and will announce new controls and security checks along its border with Austria to cope with the influx of migrants, German and Austrian media report on 13 September. All trains between Austria and Germany were cancelled a few minutes after the announcement.
More than 13,000 refugees arrived at Munich's main railway station on Sunday, and 1,400 more are expected to end their journeys through Hungary and Austria.
"Given the numbers from yesterday, it is very clear that we have reached the upper limit of our capacity," said a Munich police spokesman as the continent scrambles to respond to the biggest movement of people since World War II.
Germany has become a top choice for refugees after Angela Merkel relaxed asylum rules for citizens of war-torn Syria. But the country is now having difficulty finding accommodation for them.
The German government is rushing to cope with the huge number of people moving across Europe. Up to 800,000 migrants and refugees are expected to enter the EU this year, with 450,000 people are set to arrive in Europe's biggest economy so far this year: the most out of any other country in Europe
"Effective measures are necessary now to stop the influx… including help for countries from where refugees are fleeing, and also includes an effective control of our own borders, which also no longer works given the EU's complete failure to protect its external borders," said German Federal transport minister Alexander Dobrindt said in a statement.
Merkel called on Athens to make more of an effort to protect the EU's external borders. Most of the migrants and refugees entering the EU care coming through Turkey and Greece.
Tighter border controls
On Sunday afternoon, Germany's interior minister, Thomas de Maizière, said that Germany would continue to accept refugees, and that the introduction of border controls to bring "order" to the influx of refugees and to help ensure their safety. While he did not say that Germany would begin refusing entry to any migrants, he did warn that the country's "helpfulness" in the matter "must not be overstretched".
During the announcement, Maizière also said that other EU countries must implement systems to process asylum claims within their own borders, which is a requirement of EU law. He also repeated Merkel's demand that there must be a "fair distribution" of refugees housed across EU countries and that asylum seekers should not be allowed to pick which country they settle in.
The minister also addressed concerns that tightening of border controls would bring an end to the free movement of EU citizens within mainland Europe's Schengen Area. He said that the measures being brought in were "standards and rules" which were laid down in the Schengen Agreement.
Rest of Europe
The European Commission's proposals for EU members to share 160,000 refugees in a quota scheme is also facing resistance from its members from Eastern Europe.
Hungary, which reported a new record in migrant arrivals – 4,330 on Saturday – was working around the clock to finish a controversial anti-migrant fence along its southern border with Serbia. Budapest has recorded some 180,000 people entering illegally this year and has passed a raft of tough new laws that will take effect on Tuesday, meaning anyone crossing the border illegally can be deported or jailed.
Hungary's Prime Minister Viktor Orbán's handling of the migrant crisis has been compared to that of the Nazi's ethnic cleansing during the Second World War.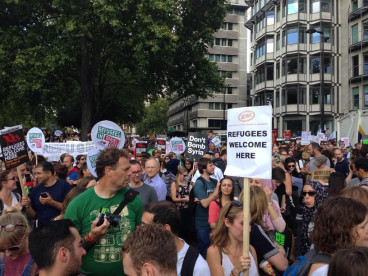 Austria's Chancellor Werner Faymann told Der Spiegel that, "Piling refugees on trains in the hopes that they go far, far away brings back memories of the darkest period of our continent."
Orbán defended his policies in in Germany's Bild newspaper, saying, "These migrants are not coming our way from war zones but from camps in Syria's neighbours... So these people are not fleeing danger and don't need to be scared for their lives. He also said that Merkel's decision to relax asylum laws for Syrians arrivign in Germany had caused "chaos" and accused European leaders of "living in a dream world".
The division was also seen on the ground, with tens of thousands marching through London on Saturday waving placards saying "Refugee lives matter", while in Eastern European capitals, protesters called for refugees to "go home".
The International Organization for Migration said Friday that more than 430,000 people have crossed the Mediterranean to Europe this year, with 2,748 dying en route or going missing.
Jordan, Lebanon and Turkey continue to house many more refugees are housed in countries near Syria, with more than 1 million in Turkey and 600,000 in Jordan. However, many of the wealthy Gulf states face scrutiny over their perceived reluctance to take in migrants and refugees.