Labour leader Jeremy Corbyn is set to join thousands of protestors at welcome refugees march to Parliament Square. The newly-elected MP for Islington North will join protestors urging a more humanitarian and compassionate response to the Syrian refugee crisis.
The march began at noon today at Park Lane with other speakers including Musician Billy Bragg, civil liberties campaigners Shami Chakrabarti, Liberal Democrat leader Tim Farron and Green Party leader Natalie Bennett. Under the banner 'Refugees Welcome Here' and using the hashtag, #RefugeesWelcome, the campaign has attracted those critical of the government's handling of the refugee crisis.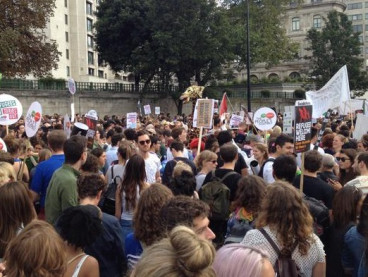 Kate Allen, director of Amnesty International, said to Sky News: "This is a critical moment ahead of the EU leaders meeting on Monday to make our voices heard loud and clear. We should remember the proud moments in the UK's history when we have opened our doors to people when they are most in need, and we should not be turning our backs now on those caught up in what has become the biggest refugee crisis since the Second World War."
Some 40,000 migrants could arrive in Germany over the weekend. Most are expected to arrive in Munich and around 4,000 German troops are being deployed for logistical support.
Syrian refugees coming to UK
Bianca Jagger, president of the Bianca Jagger Human Rights Foundation, said: "My heart goes out to those seeking refuge in Europe. We should never forget that our government's misguided policies and illegal military interventions have played a critical role in causing this humanitarian crisis."
The rally is due to start in Parliament Square from 2.45pm and finish by 5.30pm, with Corbyn set to speak at 4pm. Other cities around the world including Ontario, Stockholm and Manchester have seen protests.
In a victorious day for the left-leaning Corbyn, he was elected as leader of the Labour party in a landslide victory at the Queen Elizabeth II centre securing almost 60% of the votes. He addressed supporters in a nearby pub afterwards.