Hungary has been accused of treating asylum seekers like "cattle in pens" as disturbing images showing a crowd of people being thrown bags of food inside a large refugee camp on the border with Serbia emerged. The footage recorded by an Austrian volunteer marked another chaotic day in central Europe amid the deepening migrant crisis, with fresh railway closures and the arrest of an alleged human smuggler.
About 150 migrants can be seen crowded in a bare hangar at the Roszke centre, as they try to grab food thrown at them by police officers wearing helmets and hygiene masks. Peter Bouckaert, emergencies director at Human Rights Watch, said the conditions asylum seekers were being held in were inhumane.
"The detainees at Roszke are held in filthy, overcrowded conditions, hungry, and lacking medical care," Bouckaert said. "The situation for migrants and asylum seekers in Hungary is inhumane and untenable.
"They are herded like cattle in pens and forced to stay in the open in hot sun, where some are literally passing out from heat and exhaustion," he told the LA Times after visiting the reception facilities at the border.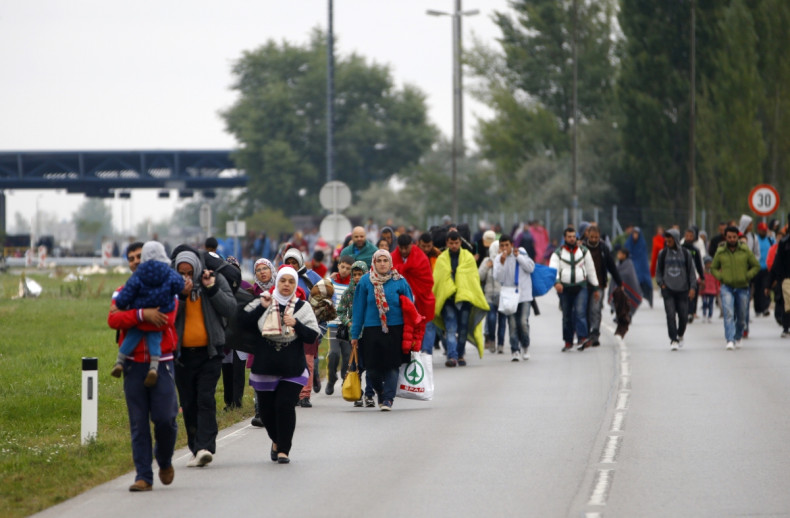 Meanwhile, thousands of people were walking from Hungary to Vienna, after the Austrian railways operator suspended cross-border services. Austrian Federal Railways said the measure became necessary because lines were overwhelmed by the number of migrants trying to board west-bound trains, which will not run over the weekend either.
As a consequence men, women, children and entire families sometimes pushing baby buggies set off on foot and marched through the Nickelsdorf border crossing hoping to reach the Austrian capital. Austrian police said another 7,500 people crossed from the same entry point on 10 September. Most hope to continue their journey to Germany and other northern European countries.
With train links closed, many tried to find alternative routes to reach their desired destination. Hungarian police said they arrested a 52-year-old Italian driver who was allegedly trying to smuggle 33 would-be-refugees to Germany. The asylum-seekers, 31 men and two women mainly from Syria, were crammed into the back of Fiat Ducato van that was stopped near the Lake Balaton. The alleged people trafficker claimed he was simply giving a lift to migrants he encountered on the road, Italian media reported.
A record number of more than 350,000 refugees and migrants have crossed EU borders so far this year, mainly through a dangerous sea route across the Mediterranean to Greece and Italy. More than 2,600 are believed to have died at sea since January. From Greece tens of thousands have travelled by land to Macedonia and then on to Serbia and Hungary, on the way to other northern EU states.
The flow didn't seem to be slowing down. An official with the UN refugee agency said about 7,600 migrants arrived in Macedonia on 10 September. "We have information from our Greek colleagues that the buses are on the way, so they will be coming and they continue to come," Alexandra Krause, UNHCR senior protection officer, told Reuters.