An Irish navy ship recovered 17 bodies from an upturned wooden boat off the Libyan coast, just 24 hours after 22 bodies were recovered from the Mediterranean yesterday (20 July).
Along with a British ship and a boat run by a humanitarian organisation the Irish boat, known as the James Joyce, also saved a total of 1,128 migrants on Thursday (21 July). They were taken to Sicily for processing.
The bodies recovered in today's operation were those of 16 men and a boy, a coastguard told Reuters. He was unable to specify how they died or their nationality.
According to the International Organization for Migration (IOM), around 3,000 migrants have died or disappeared making the crossing between Libya and Italy since the start of 2016 while, during the same period, around 84,000 have made the crossing successfully. Some 3,200 people were rescued on Tuesday (19 July) alone, with at least one fatality.
Speaking about the deaths, Jens Pagotto - of health organisation Medecins Sans Frontieres (MSF) - told Reuters: "It is still not entirely clear what happened, but they died a horrible death. It is tragic. It seems that water and fuel mixed together and the fumes from this might have been enough for them to lose consciousness."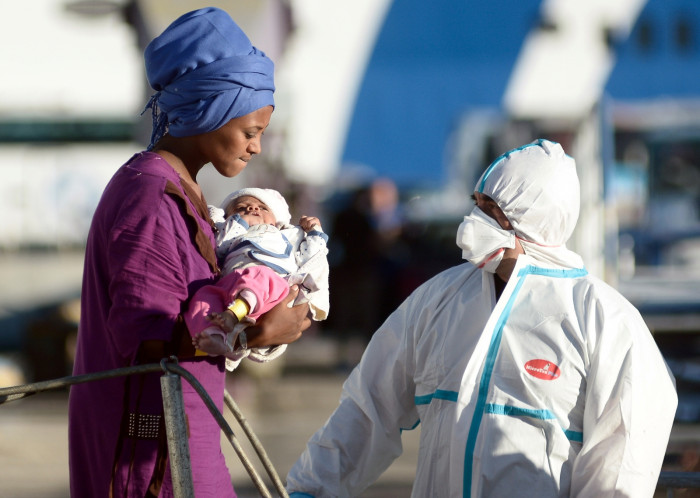 With the crossing from Turkey to Greece practically closed off, following the controversial deal between the European Union (EU) and Turkey, the longer and more hazardous route from north Africa is again becoming a popular escape route from war and poverty.
The shortest distance between Turkey and Greece is just a few miles, whereas from the western tip of war-torn Libya to Lampedusa it is 290 miles, with the journey often made on leaking boats or in over-crowded dinghies.
Some migrants who have been rescued from the sea say they were told by people smugglers to deflate their dinghy as soon as they saw Western ships approaching, knowing they would have to come to their aid. However many migrants cannot swim.