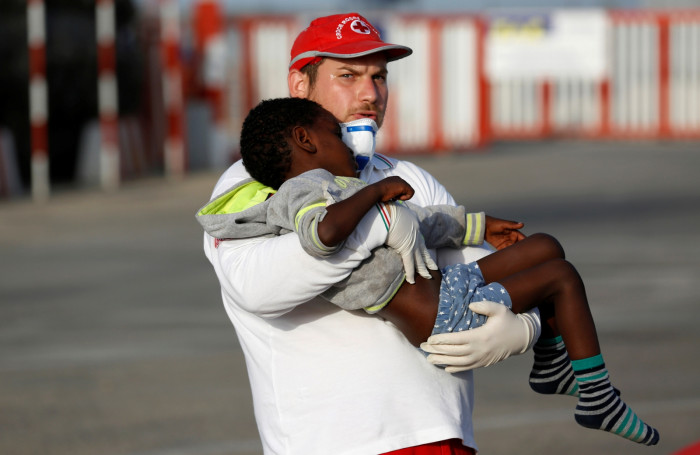 At least 10 migrant women drowned when a dinghy capsized 32km (20 miles) off Libya today (30 June). The Italian coastguard rescued 107 others at the scene and another 116 from three other vessels in distress in the same area as they attempted to make the dangerous crossing between Libya and Italy.
Patrol boat Diciotti attended the scene after receiving a distress call. Sea conditions at the scene were said to be poor, with high waves and high winds. Many people were already in the water, according to spokesman Captain Cosimo Nicastro.
According to the United Nations refugee agency (UNHCR), more than 64,000 people have crossed the Mediterranean to Italy since the start of 2016. Most of the migrants using the route are from sub-Saharan Africa.
Since April 2015, around 5,000 people are thought to have drowned while attempting to make the perilous crossing.
Today's incidents came as a boat involved in one of the worst-ever migrant drownings was brought ashore in Sicily, in the hope that hundreds of people still believed to be trapped inside could one day be identified.
The boat sank off Libya in April 2015 and is thought to contain around 470 people, according to the Wall Street Journal.
Italian fire workers will undergo the harrowing task of removing all the bodies from the wreck so they can all be given a decent burial. First samples of DNA will be taken in the hope that one day their families will be able to identify them. The aim is eventually to have a complete database of all those who die attempting to reach Europe.
Italian Prime Minister Matteo Renzi, who authorised the salvage operation, said on Facebook: "This ship contains stories, faces, people, not only a number of corpses. I authorised the navy to salvage the wreck to give burials to these brothers and sisters of ours who would otherwise have stayed for ever at the bottom of the sea."