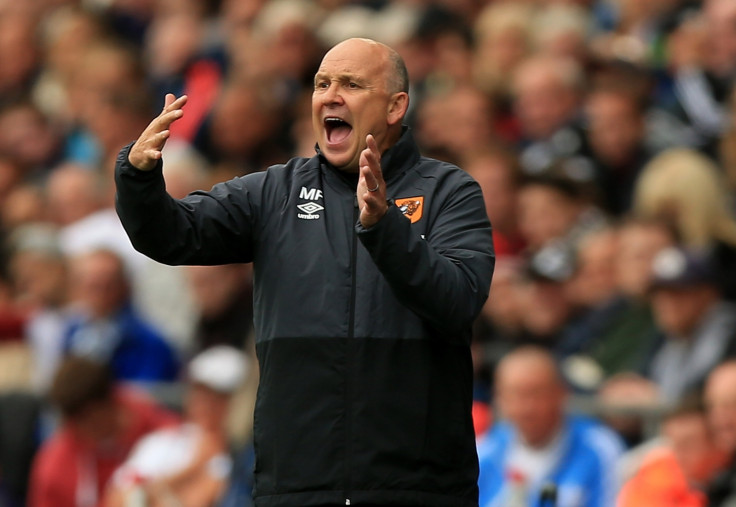 Hull City manager Mike Phelan has warned Arsenal his players are ready to continue their impressive start to Premier league life when the Gunners visit on 17 September. The caretaker boss has no new injury concerns from the team that drew with Burnley last weekend, but the game will come too soon for long-term injury absentees Moses Odubajo, Allan McGregor, Alex Bruce, Michael Dawson, Brian Lenihan and Greg Luer.
Phelan has been forced to deal with an injury-hit squad for the opening weeks of the campaign, after he took temporary charge of the Tigers following Steve Bruce's decision to resign. Six of the club's summer signings – Ryan Mason, Will Keane, David Marshall, James Weir, Dieumerci Mbokani and Markus Henriksen – only arrived at the club in the dying days of the transfer window.
The Tigers have deployed an unchanged line-up for the opening four games of the season, taking seven points from Leicester City, Swansea City, Manchester United and the Clarets.
Hull's head of medical services, Rob Price, claims Phelan could repeat that line-up for the visit of Arsenal on 17 September, with no new injury concerns. However, the caretaker may opt to give a starting spot to one of his new signings instead.
Either way, Phelan is relishing the visit of Arsenal, looking to take another scalp as they continue their surprisingly strong start to the season.
"It will be a tough game against a top team full of excellent players," Phelan said to the club website. "But the spotlight will be on Arsenal. We've conducted ourselves really well so far and we'll be up for this challenge.
"Arsenal are a fabulous team with a certain way of playing football and they challenge you all of the time in different areas of the field. We know what we have to do and how we have to approach the game. Concentration and the mental side of the game are going to be important, but we also have to play in the game as well because we're not going out there just to accept what Arsenal want to throw at us. We have to make the game. We've done it in the past and I'm sure we'll do it again."
Meanwhile, the Hull doctor has claimed that the six long-term injury absentees are progressing well, suggesting that Odubajo could be the first one to be back available.
"Moses is progressing really well seven weeks on from his patella dislocation and he is fully weight-bearing now. His range of movement is now only about ten degrees down compared to his other side and as soon as he regains that extra ten degrees he'll be able to start on the AlgerG and start his running re-education, and we hope that will be by the end of this week," the Hull head of medical services reported on the club official website.
Dawson, who was ruled out for three months back in July due to a medial knee ligament injury, could return to action after the next international break on October.
"Michael is progressing nicely and had a great week outside last week. As always with medial ligament injuries, the last thing that comes back is the ability to hit a side-foot pass and hit a long ball and we expect that to come back in the next two or three weeks. Realistically, we're looking at after the next international break for him being available to be part of the squad," the doctor confirmed.
Bruce and McGregor were expected to be out for between four and six months after they picked up serious injuries earlier in July. The doctor has now confirmed that the recoveries are going well, but their returns are still far away.
"Alex is also now fully weight-bearing following his achilles tendon reconstruction. He started some swimming pool rehab last week and some running mechanics within that, but we have to be cautious not to push this too quickly," he said about Bruce.
Speaking about McGregor, he added: "Allan is now seven-and-a-half weeks post-surgery on his back injury and is continuing with his neural pathway work to try and increase his range. He is improving week by week, but this one is going to take time. We said that it would probably be December before he was anywhere near and that still looks likely to be the case."
Phelan, meanwhile, may also need to wait some more time to have both Lenihan and Luer ready to select.
"Brian is continuing his outdoor rehab and we want to make sure we give him the best chance of progressing from this knee injury. We're increasing his load slowly to give him the best chance of doing that," the doctor reported about Lenihan.
Meanwhile, speaking about Luer, he added: "Greg is a couple of weeks on from surgery on his knee. He started fully weight-bearing on Monday and is working on his strength in the gym, but it's a 12 to 16-week injury."