Arsenal midfielder Mikel Arteta admits the club hit their 'lowest point' in the defeat to Swansea City in the Premier League last weekend, conceding there is grave concern among the players.
Arteta's Spanish counterpart Michu scored twice to hand The Gunners their worst start in the top flight for 18 years, leaving them five points behind Tottenham Hotspur in the race for the fourth Champions League spot.
West Bromwich Albion travel to The Emirates Stadium this weekend hoping to inflict more misery on Arsenal and Arteta is adamant the club must bounce back at the first opportunity.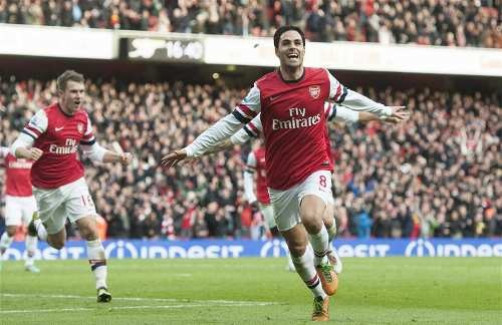 "Last Saturday was probably the lowest point, but we hadn't won the last games before and that was disappointing because we'd been on a good unbeaten run but hadn't been winning games," Arteta said.
"You have to look at yourself and then you have to look at the rest of the players. The most important thing is a player's attitude, how you go about your job and the players here take responsibility.
"We need to win games, it doesn't matter how. The players want to put it right. I'm expecting a big reaction. I know we will get that from the players."
Having failed to win back-to-back Premier League games since September, Arsenal's plight is down to their domestic inconsistency, with manager Arsene Wenger blaming the club's hectic schedule.
Against a West Brom side who have been the surprise package in the top flight this season Arteta says Arsenal must start well amid growing concerning from the home support and from within the camp.
"We need to start well, give the crowd a hand and something to cheer. That will give them a lift and that's so important," said Arteta.
"It's so important for the crowd to get behind us. But we can't expect them to get behind us unless we give them something that we want to watch.
"You feel that disappointment from the fans because they expect better. We need to turn it round as quickly as we can because we've got a good period around Christmas where we can create a different atmosphere, everyone's happy on holiday and there's a lot of games.
"I've got a responsibility; we've all got a responsibility. We will try to help the younger players but, believe me, everyone is very concerned. You can see it on the players' faces.
"Swansea was the lowest point because we saw it as an opportunity: the first of two games at home and the chance to start a run leading up to Christmas."