Milan: Hybrid Design and Architecture Breathe Fresh Life into Italy's Industry and Innovation
Milan Design Week 2013 and Be Open reveal need for new type of architecture to catalyse technological and industrial development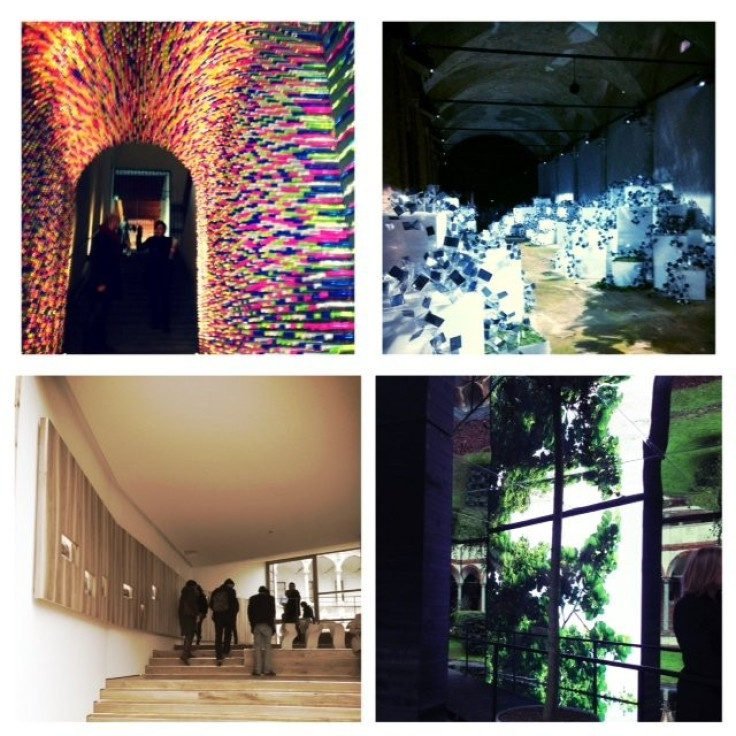 The demand for architecture and design to push the boundaries of sensory perception - as well as being sustainable, environmentally friendly and suitable for an urban setting - has not only created a hybrid form of industry but has also catalysed technological innovation.
At Milan Design Week 2013 and with Be Open, a creative thinktank founded by Russia's richest woman Elena Baturina, hybrid installations - architectural structures that mesh traditional materials with recycled goods and high-grade technology - have gone on display. It is clear this sector is experiencing a renaissance.
IBTimes UK reported from Milan in a special series on the city's benchmark design week and witnessed a raft of cutting-edge architectural spaces, that developed and utilised experimental technology. Experts and government bodies were hoping the project will stimulate local and international industry, and economic development in one of Europe's largest city economies.
"Design is the key to industry development and while we are seeing an reinvigoration, it is a trend that has been happening for years," Christophe Pillet, award-winning designer, told IBTimes UK.
"Take the car industry, for example. The vast majority of people who drive choose cars they like the design of and how it feels inside the car, not because of slight differences in the engine. Only a very specific demographic wants the latter. What has really turned some companies around is the launch of a new design."
Pillet was selected by Be Open, which provides a development platform and support for industries "involved in five senses", to design a hybrid installation that would mix cutting-edge technology with natural materials to be sustainable and aesthetically pleasing for an urban setting.
"The human need for always bettering your environment and your living space, as well as being aware of the environment, have been pushing new developments in technology, not the other way around," Elena Baturina told IBTimes UK at the Universite degli Studi di Milano, where the design week installations were housed.
"It was a conscious effort to place the installations in an old environment, in this case 17th-century architecture, as it shows has we have to search for new environments and technology, without forgetting our roots. I suppose it is my Soviet background that makes me feel this way but I feel the past complements future development and should not be forgotten," she said.
Bridging the gaps
Pillet's installation is a "contemplative pavilion" that uses video, technology and natural materials to showcase the hybrid possibilities for architecture and design in city environments. Surrounding the House of Senses lay the installation Zang Tumb Tumb, an interactive light and sound structure that illuminates the walkway around Pillet's creation. It was designed by Steflab, which won a Be Open competition for Young Talent in Interactive Design.
Another example of the hybridisation is Michele de Lucchi & Safilo's Sguerdi Indiscreti, which uses Roman statues wearing sunglasses and incorporating video technology to demonstrate how old architectural methods and design need to be seen through new eyes.
"Technology should not be considered just as 'super technology' but also as innovative ways to improve the quality of life, even through the use of light," said designer and architect Marvo Cucinella.
The Moduloibrido project by Simone Micheli is another prime example of architecture and design pushing technological innovation. The residential module is experimental and uses physical plant systems, as well as water treatment and new materials to create a practical, yet environmentally sound, living space.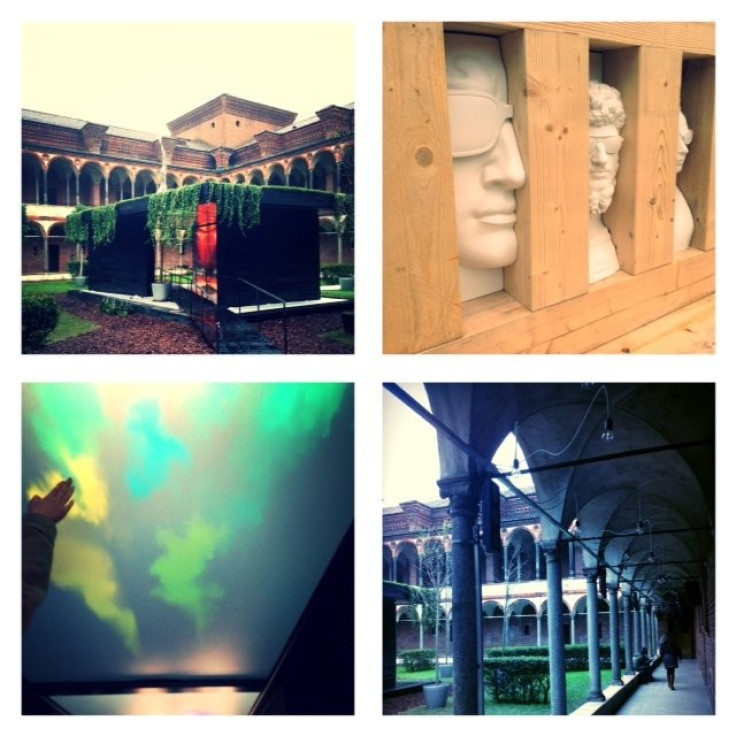 Environmental awareness
"The environment and need for sustainability is no longer a theory, it is something that we seriously need to look at now," said Pillet.
Examples include Autoban, by Gruppo Pozzi and Deborah Milano - a pair of panels that use more than 30,000 lipsticks to symbolise practicality through recycling.
Akihisa Hirata's solar-powered cityscape, Energetic Energies, represent the need for energy security through sustainability with its use of cascades of scaled-down solar panels.
The View, by Luca Scaccheti and Wolf Haus, delivers a unique vantage point to enjoy the environment and surrounding architecture through an almost Alpine-like chalet made out of entirely recyclable materials.
"When we talk about technology, we think about computers and materials, but the benefit comes with what you do with that technology too. With a computer, it represents nothing. It is down to the words you write and what programmes you use or what you design on that computer," said multimedia designer Fabrizio Plessi.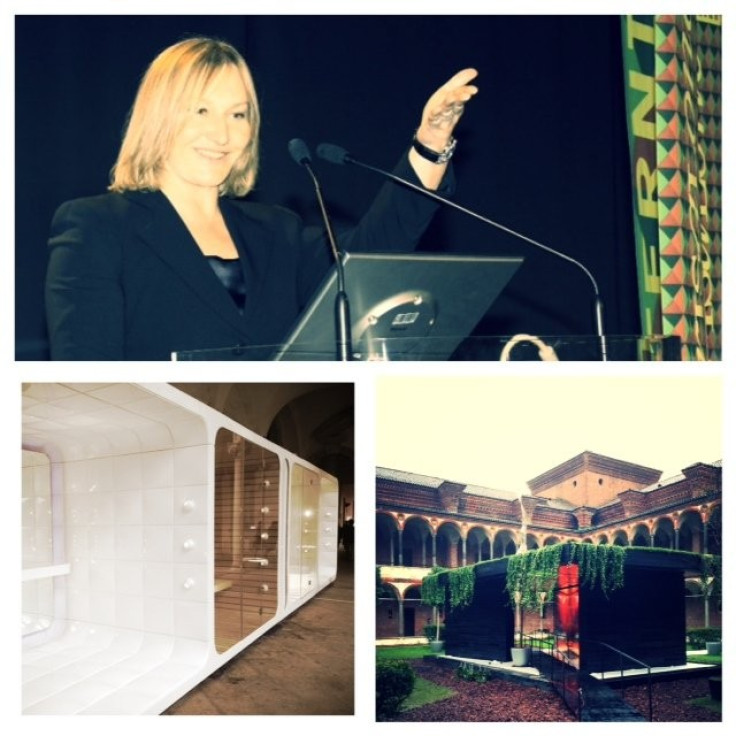 Industry impact
Industry experts and government officials are also hoping this will create a renaissance for Milan's and Italy's economy.
"As you can imagine for the city of Milan, this is an important week, not only on an international level, but also for where we are on a city and country level, because of economic difficulties," said Cristiana Tajani, head of economic development for Milan.
"Any time the market is tough for companies, it obliges us to investigate the value and recipe of our city's and country's success in the past and what made us competitive in the golden times."
As with most of the countries in the eurozone, the sovereign debt crisis has weighed heavily on Italy's finances and balance sheet.
Milan, in particular, has lost billions of euros after being mis-sold a number of derivatives by some of the world's largest banks, meaning money used by the council for infrastructure, development, production and wages, was wiped out.
On top of that, the world's oldest bank and Italy's largest lender, Banca Monte Dei Paschi di Siena, suffered major losses from derivatives trades too. Coupled with the credit crisis, that meant that billions of euros had to be injected by the government to keep it afloat.
"Although I am Italian and have many operations in Italy, I have lived in Paris for six years. But I can certainly say that foreigners do complain and may discuss and comment about the politicial situation, organisational ability or even our inability to network. But nobody ever objects to our excellence in fashion and design industries," said Ernesto Mauri.
"This has made me proud to be Italian and hopefully this will lead the country to better times."
While the finance industry still grapples with the road ahead, government officials, experts and industry specialists hope that hybrid architecture and design will reinvigorate the economy and have a significant impact on a range of other sectors, including manufacturing and export.
READ:
Milan Design Week 2013: Hybrid Architecture, Design and Technology [SLIDESHOW]
Milan Focuses on Design and Manufacturing For Economic Growth
© Copyright IBTimes 2023. All rights reserved.