Nobody beats Milan when it comes to fashion. The Italian city is recognised as a hotspot for fashionistas around the world. And now dogs have the chance to experience the moda Milanese.
Fashion designer Giovanna Temellini gets it: pups too can be chic, and it's only fair that they match their owners' elegant style when they both trot down the streets. In February 2017, she launched Temellini Dog a Porter and the business took it from there.
Temellini was originally focused on ready-to-wear attire for women. But on her free time, the 57 year old likes to donate to animal charities. Dog a Porter (DaP) was born out of a conversation she had with her daughter, who pointed out that even though Temellini did create small pieces for pouches, her own dog's ears were always wet it rained. "Everything was born out of love," Temellini says.
The first DaP piece ever created in her workshop was a small jacket for the aforementioned pooch, with two little hoodies for the ears that matched the daughter's own jacket.
The designer worked for fashion's big names like Bottega Veneta, Ermanno Scervino and Armani and nothing is too good for the pups: everything has to be elegant and made with high quality materials like cashmere and alpaca - yes, taken from other animals, don't tell Fifi.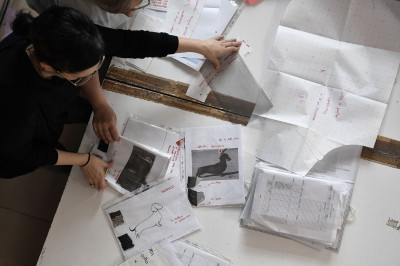 What if they want to jump head first into a muddy puddle of water in the park? We're still talking about dogs, after all. "I pay a lot of attention and respect to the dog's needs when it comes to moving, running, getting dirty, socialising," Temellini says, "I'm opposed to creating pieces that could limit a dog's movement or make it look ridiculous - they can feel it."
In order to offer a wide range of clothes, she studied the morphology of several dogs and adapted ponchos, t-shirts, sherlocks, hoodies, bombers and blankets able to satisfy the needs of the most demanding clientele. Temellini's website explains that the line is intended for dogs that don't find what they need in wider distribution outlets and instead "require special protection and attention."
Elegance for dogs has its price, just like for humans. A small cashmere t-shirt – able to fit a Dachshund– will cost €142 euros (£126). A cashmere coat with decorative pocket will come at €252. A matching coat – for the bipedal clientele – costs way more : €620 euros.