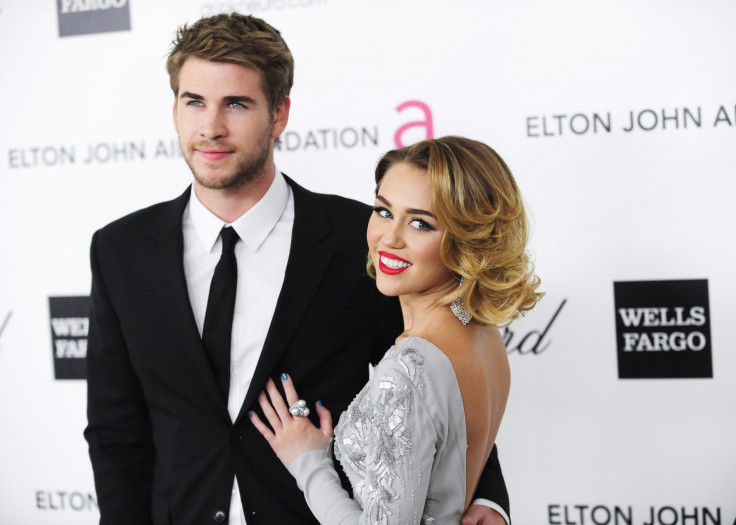 Miley Cyrus has finally confirmed she is engaged to Liam Hemsworth after keeping her fans and followers guessing for months. The Wrecking Ball hitmaker, however, did say that she does not like to wear the ring as it isn't her "aesthetic." Cyrus added that she still wears it only because she loves The Hunger Games actor.
On Thursday's episode of The Ellen DeGeneres Show, the 23-year-old revealed she has been wearing the same ring the Aussie actor proposed with in 2012.
"It's very weird because this is, like, real jewelry and most of my jewelry is made out of like gummy bears and cotton candy and they don't look that good together because they kind of mix up. So sometimes I replace it with an actual unicorn or a Looney Tune. And he's like, 'What's going on?' And I'm like, 'Well, this isn't my aesthetic, but I'll wear it 'cause you love me'," the songstress said. (Via Entertainment Tonight)
After Cyrus and the 26-year-old actor reignited their romance in December 2015, they have been spotted together on numerous occasions, sparking rumours about their wedding.
At the time, reports had claimed that the pair was planning to tie the knot in a beach ceremony in Australia and honeymoon in Bora Bora. But the couple reportedly scrapped the plan as Cyrus was not sure about the wedding destination. Later, another report claimed that the couple had "secretly" tied the knot in low-key affair at their Malibu home in front of some family and friends.
"They exchanged rings, but nothing flashy," a source told Star. "They had food from a local Greek eatery that they order from regularly and cupcakes from Sprinkles. It was just what they wanted."
Cyrus and Hemsworth started dating after meeting on the sets of the movie The Last Song in 2009, but split in 2013.