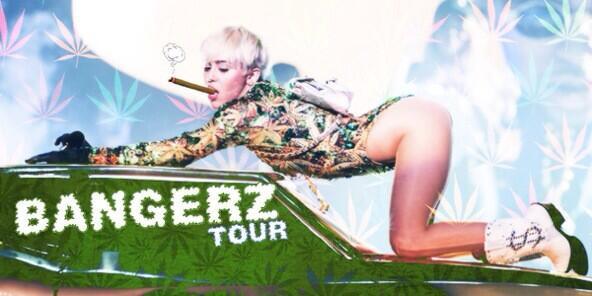 News that Miley Cyrus's hospitalisation is due to an allergic reaction has not stopped scores of fans from claiming that the star has contracted HIV.
The former Hannah Montana star cancelled her Kansas City Bangerz concert as she had to rush to hospital for severe allergic reaction.
Cyrus has been constantly tweeting her fans about her health issues.
Mr. Octopussy & some amazing Drs are taking good care of me pic.twitter.com/7FJFxYa7M5

— Miley Ray Cyrus (@MileyCyrus) April 15, 2014
The Hanna Montana star was suffering from severe cold, cough, fever and headache from quite few days and had to cancel her show. The singer later tweeted her disappointment for the show cancellation and said she was 'heartbroken'.
Kansas I promise Im as as you are. I wanted so badly 2 b there 2night. Not being with yall makes me feel shittier than I already do — Miley Ray Cyrus (@MileyCyrus) April 15, 2014
Meanwhile the 'Miley diagnosed with HIV' hoax started doing the rounds in the wake of her hospitalisation.
Gossip website huzlers.com reported that the Adore You singer's blood samples were tested and later she was tested positive for HIV and not the flu,
The news went viral on social media and fans started tweeting their speculation.
@MileyCyrus I heard you found out you have HIV?!? Is that a rumor???

— Sarah Rae (@rae_tsarah) April 16, 2014
Miley Cyrus tested positive for HIV after getting so sick she had to cancel her #BangerzTour in Kansas according to the news. Is this true!? — Jessica Martinez (@JL_M3) April 16, 2014
The Sprint Center issued a statement regarding the show's cancellation, saying the singer "has been placed on medical rest by her doctors. She will not be able to perform as scheduled.
"Refunds for tickets will be available at the point of ticket purchase. Tickets purchased online or by phone will be automatically refunded."
After the hospitalisation news broke, Cyrus's fans started sending her get well soon messages on Twitter.
@MileyCyrus I love u so much it kills me to know u r on the hospital :'(

— Here For Miley (@mileysbitch_lya) April 15, 2014
@MileyCyrus Mr. Octopussy YOU MUST TAKE CARE OF MILEY AND MAKE HER FEEL GOOD AGAIN! #GetWellSoonMiley ❤️ love from smilers! — I MET MILEY (@MileyRayBangerz) April 15, 2014
@MileyCyrus get well Miley

— ♡ kimberly ♡ (@itskimberlyduh) April 15, 2014