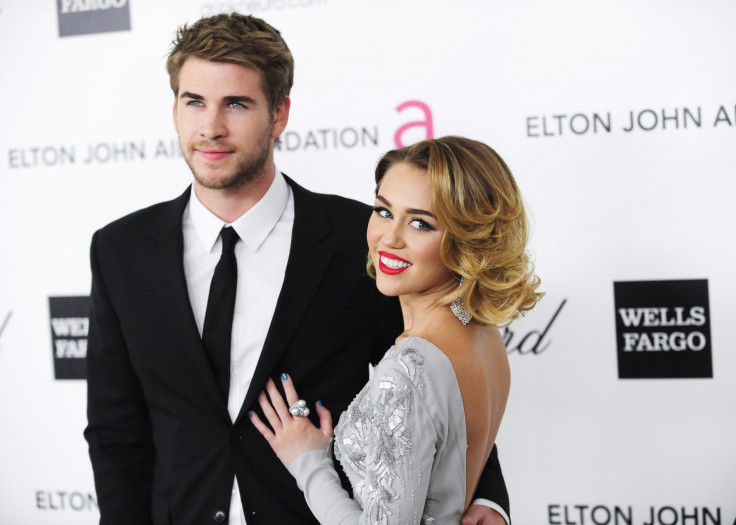 Miley Cyrus and Liam Hemsworth were spotted enjoying a dinner date with The Hunger Games actor's family at a sushi hotspot Nobu in Malibu on 18 May, effectively scotching break-up rumours. The couple were accompanied by the 26-year-old's parents, his brother Luke and his wife.
"Yes Miley was there with the Hemsworth family. There was a table for six and lots of celebrating and toasting. Miley and Liam looked really happy," a source told HollywoodLife.
"They came in holding hands and seemed really affectionate with each other. Everyone seemed like they were in a good mood just eating dinner and talking. Miley also spent quite a bit of time talking to Liam's mom and sister-in-law," the source said.
Life & Style magazine on 16 May reported that the marriage plans between the couple were over with Hemsworth breaking off their relationship.
"He realized that he's not ready to settle down and that Miley really isn't the one, so he recently dumped her, just days before the wedding," the magazine reported. "She's heartbroken, but pissed off, too."
The Aussie actor and The Wrecking Ball singer have been tight-lipped about their relationship but in an interview with ETOnline the actor acknowledged that they were back together.
"Everyone's happy. I'm happy. Yeah... I just find it's easier to not talk about my personal life because usually I say the wrong thing, so it ends up just complicating things more. So, I feel like it's better not to talk about it," Hemsworth told ETOnline.
The two kicked off their romance on the sets of the movie The Last Song in 2009. They got engagement in 2012 but called it off in 2013. The two reunited in December 2015.