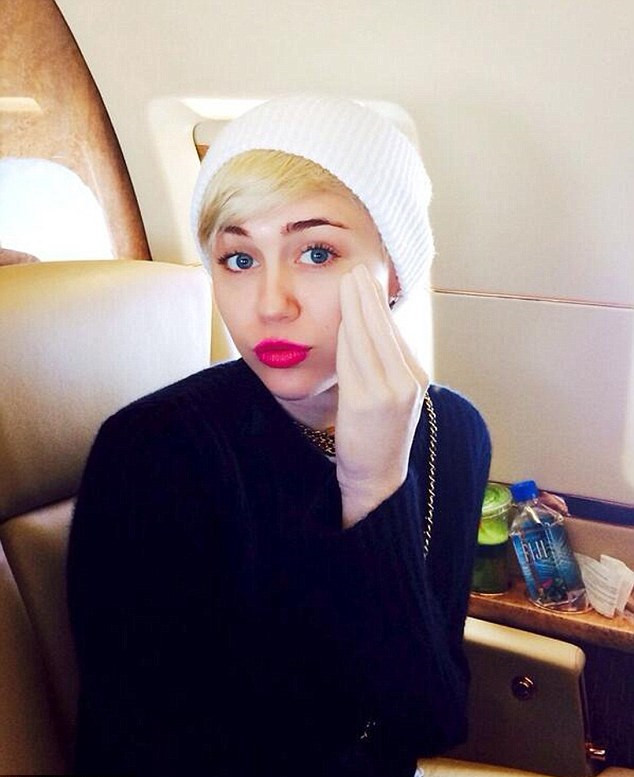 Just when you thought Miley Cyrus's antics couldn't shock you more, she surpassed her own standards as she posted a picture of herself holding an adult sex toy.
The controversial star posted the picture on Twitter, which shows her holding the item in the sleeve of her jumper and holding it up to her face, with the comment "#lifeontheroad."
The singer was on a private jet heading for the next location of her Bangerz tour.
Later that day, the Wrecking Ball star, who is never afraid of causing a sensation, shared a picture of herself puffing on a suspect-looking cigarette.
The pop star also posted a snap of herself and a friend Lisa Marie, who she described as her "kiewt c***" gal pal.
Cyrus has managed to score endless headlines with her questionable behaviour and her raunchy antics, most recently provoking the anger of parents who dubbed her concert a porn show.
The singer, who is famed for twerking, flashing her breasts and posing naked, has also run into a series of Twitter spats with her fellow celebrities.
While the likes of Sinead O'Connor and Kate Winslet have expressed their concerns that the star is being exploited, Cyrus has most recently locked horns with Katy Perry after the Roar singer pulled away when the 20-year-old leaned in for a kiss.
In an interview Perry commented: "God knows where that tongue has been."
Cyrus turned to Twitter with a cutting retort in reference to Perry's former boyfriend John Mayer saying: "Girl if ur worried abt where tongues have been good thing ur ex boo is ur EX BOO cause we ALL know where THAT been."
The sleazy Twitter pictures are a world away from Cyrus's new Marc Jacobs campaign in which she is photographed in a sombre mood and unusually for Cyrus, with her clothes on.
Set against the backdrop of a dramatic beach landscape the images see the star in a surly state of mind, flanked by two female models adopting a similarly broody demeanour.
Jacobs described the setting saying: "We wanted this beach with the girls kind of sulky and broody. We thought it would be cool if it was Miley with what could be two friends, feeling distant and quite dark."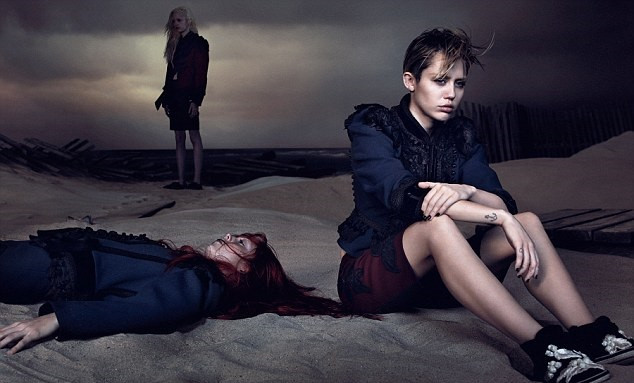 The images mark her first foray into the world of high fashion and contrast starkly with her recent topless pictures for W magazine
The Bangerz world tour continues for a further four months until her final June 13 concert in Barcelona and knowing Cyrus the controversies will continue to rage on.