Miley Cyrus is at the centre of yet further controversy after she allegedly suggested children should "be more risqué" in how they dress.
The Wrecking Ball singer, known for twerking and tongue-wagging, is quoted as saying that she thinks children's clothes are boring.
According to TMZ, in a recent interview, the 20-year-old said: "I like to experiment. I like to try new things. I don't understand what most girls are wearing today. ... I find it boring. Why don't younger children try to be more risque. I like it when you find a style that can be your own personal style."
The comments come as parents have protested at the explicit content in the singer's Bangerz tour, describing the concert as akin to a "porn show."
The singer is seen in an array of provocative, flesh-baring costumes, straddling a hot dog, being groped by her backing dancers and twerking on stage.
Meanwhile, a Who's Who of Hollywood turned out in support of the singer at her recent show in LA.
Khloe Kardashian and sister Kendall Jenner, Hilary Duff, Nicole Richie and singers Katy Perry and Christina Aguilera flocked to the Staples Centre to take in the spectacle of the show.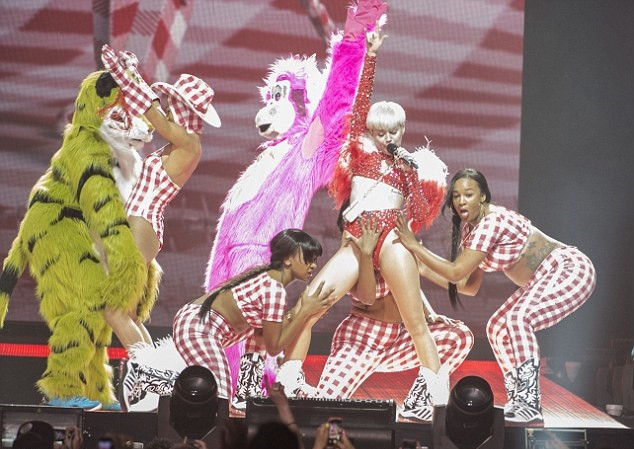 Cyrus got a bit too close for comfort for Roar singer Perry, who was sat in the front row near the stage.
Dressed in a figure-hugging black and gold bodysuit, Cyrus leaned over and planted a kiss on the 29-year old's lips.
While she appeared to be holding out for a full on smooch, a less than impressed Perry shrank back with a grimace, much to Miley's shock.
However undeterred she announced to the audience: "I just kissed a girl and I liked it a lot."
Writing on Twitter later, Perry posted the picture capturing the moment saying: "And after. I adore you @MileyCyrus."
Hilary Duff and Aguilera posted their own tributes to Cyrus on Twitter with the Beautiful singer saying: "Cheers from one dirrty [sic] girl to the next."