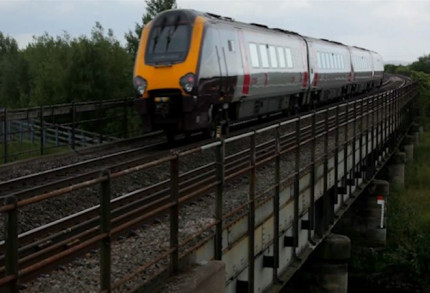 When David Cameron recently slapped down Ed Miliband for describing the sale of Royal Mail as a "rip-off", he cited all the successful privatisations carried out by Tory governments and said he had heard it all before from Labour.
But he pointedly missed one off his list. Unlike other sell-offs, including British Airways and British Telecom, the privatisation of British Rail in 1993 has patently failed to win over the public, who routinely complain about fare increases, confusing timetables, lack of joined-up services and generally poor service.
While many now find it difficult to imagine those other industries as publicly run, the same cannot be said for the rail network. Polls show a majority of voters would support wholesale re-nationalisation of the service.
One survey last November, by YouGov for the Centre for Labour and Social Studies, suggested 66% would support such a policy, compared to just 23% against.
Now, Miliband is under pressure from a large group of his own MPs and 31 would-be MPs to offer such a proposal as the "big, bold" policy his election manifesto is so far said to be lacking.
Far from rejecting it, he has declared that all the options are open, although he ruled out taking back the entire network into a single state-owned firm, aware that would lead to more "Red Ed" attacks and claims he is introducing a socialist agenda.
He is also well aware that older voters who remember British Rail have mixed feelings about how reliable, successful and economical it really was before Tory prime minister John Major sold it off as he looked for a big sale to echo predecessor Margaret Thatcher's radical and popular privatisation programme.
"We are looking at all the options on the railways. We are not going to go back to old-style British Rail," Miliband told the BBC.
It appears instead that he is looking at the example of the East Coast mainline which was taken over in 2009 by a publicly-owned company, Directly Operated Railways, when the private companies dramatically failed. The government aims to have it back in private hands next year.
The network's track, signalling and stations had already been taken out of private hands and put into the not-for-profit company, Network Rail, by the last Labour government after the private firm, Railtrack, failed in 2002.
Meanwhile, travellers have been subjected to escalating fares with an annual average hike of 2.8% in January this year, leaving some commuters facing bills of more than £5,000 a year.
And taxpayers continue to subsidise the network to the tune of some £3.2bn in 2012-13, down from a peak of £6.3bn in 2006-07, compared to the average British Rail subsidies of around £1.14bn.
So Miliband's eye for a popular policy has clearly been drawn to rail and the betting is he will offer some form of state intervention in the Labour election manifesto.
He clearly believes the public is no longer instinctively opposed to such policies, as evidenced by support for his recent announcements on energy and private rents.
But he will have a fight on his hands if he does. Whatever he proposes, his opponents will portray any public intervention as socialism, a return to the "bad old days" of Old Labour and short-term populism.
And Miliband will have to show how his solution will not simply commit huge more sums of taxpayers' cash without any improvement in service or control on fares.