A police car was set alight and at least 50 people have been arrested after demonstrators on the 3rd annual Million Mask March went off the organised route and clashed with police. Police were forced to catch up as protesters ran down side streets to escape cordons.
The march was set to start at Trafalgar Square and then head past Parliament but small groups split off. IBTimes UK saw protesters walking down the Mall, towards Buckingham Palace, met with a line of police horses. Protesters shot fireworks at the horses, spooking the animals and at one point knocking a policeman on to the road. A police statement said the rider was taken to hospital as a precaution.
As more fireworks were fired at the horses, the police line was lost and protesters gained entry to the road around the Victoria Memorial outside Buckingham Palace where police were lined with dogs. As more police arrived and attempted to hem protesters into one area, many simply ran into St James's Park and back towards Parliament.
Fireworks went off from the crowd who chanted: "Who's streets? Our streets." In Trafalgar Square, lasers were used by police on the National Gallery to produce large green text that warned protesters that they must be finished by 9pm, "failure to comply will result in arrest and prosecution".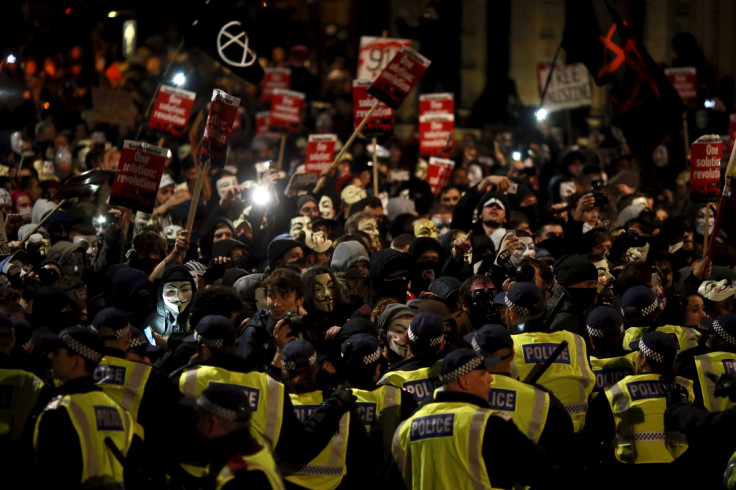 Police have said 50 people were arrested, the majority for public order offences. Some protesters who had left the main group set fire to a park police car on Queen Anne's Gate.
Police said it was an "isolated incident" and the fire was extinguished by the fire brigade. They also said three officers were taken to hospital with injuries, though none are believed to be life-threatening. One man was arrested for assaulting an officer.
Two "containments" were made to "prevent further crime and disorder". IBTimes UK witnessed police "kettling" a crowded group of protesters beside the National Gallery, while smaller clashes occurred with police on the surrounding cordon.
Constable BJ Harrington said in a statement released by the Metropolitan Police: "We facilitate hundreds of protests every year in London peacefully and with the co-operation of the organisers. On this occasion a group of protestors chose not to engage with police or adhere to the conditions of the protest and were intent on criminality ... Officers have been hospitalised, a police horse suffered injuries and a police car was criminally damaged during the course of the protest which is completely unacceptable."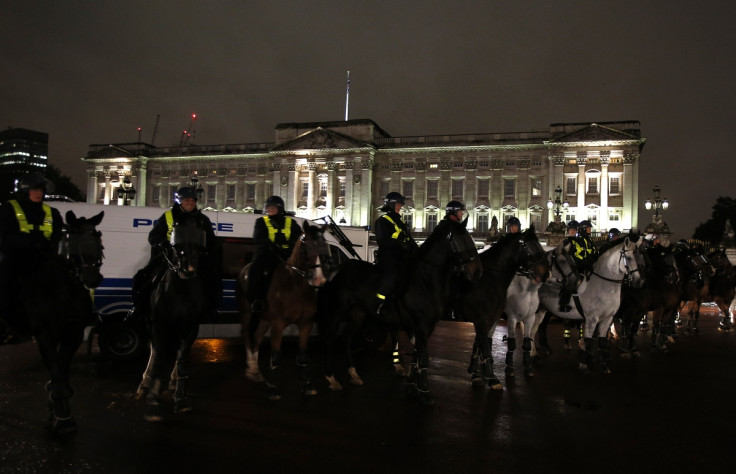 Demonstrators who had come for a peaceful protest were vocal against the actions of the aggressive minority. One demonstrator pointed at the lines of police and said: "They've got an army after us now ... this is not hooliganism."
Peaceful protestors spoke to IBTimes UK about their reasons for joining the march. One demonstrator spoke of Martin Shkreli – the man who came under heavy criticism after increasing the price of a drug used by HIV patients by 5,500%. He said Shkreli's action was "beyond ambition, it goes to greed" and suggesting this was a symptom of widening inequality.
Another man handing out leaflets said that he had come on the demonstration to protest mass surveillance. Allegations of a Westminster paedophile ring were also mentioned by a number of demonstrators.
One member of the public uninvolved in the march said he had witnessed vandalism and found the whole thing "ironic ... they ripped up a bin and then yelled 'where are my taxes?'... well, you've just ripped up a bin". The march has now ended. Constable BJ Harrington said the police will "bring those responsible for the criminality to face justice".