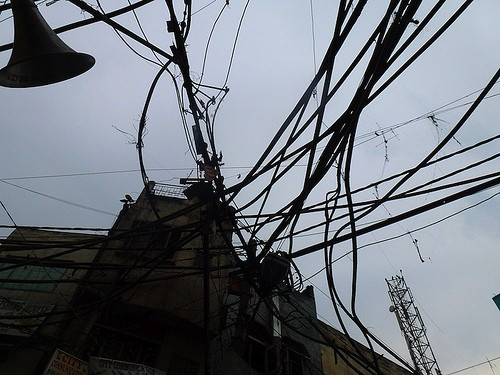 Two hundred miners are trapped in eastern India following the huge blackout that left 600 million people powerless, according to a West Bengal state official and an India Eastern Coalfields executive.
The miners are trapped inside a mine in Burdwan, which is about 180 kilometres northwest of Kolkata, AFP reported. The mine is operated by state-owned Eastern Coalfields Ltd.
"We are trying to rescue the coal miners," Mamata Banerjee, chief minister of West Bengal state, told reporters.
"All efforts are on to resume power supplies. You need power supplies to run the lifts in the underground mines."
Power has been restored in the coastal state of Odisha, according to local reports. Hospitals and traffic signals are getting electricity from emergency sources.
Reports suggest that partial services have been resumed on the Delhi metro. The Ministry of Power and Energy has released a statement promising that the normal power supply will be restored to both northern and eastern India by 6pm local time (1.30pm GMT).
A massive electricity blackout has hit northern and eastern India, leaving 600 million people - half the country's population and more than the total number of people living in North America - without electricity.
Power experts suggested that the outages may have been caused by excess demand, brought on by an extremely hot and dry summer.
The massive failure - a day after a similar, but smaller power failure - has raised serious concerns about India's outdated infrastructure and the government's inability to meet its huge appetite for energy as the country aspires to become a regional economic superpower.
Hundreds of trains stalled across the country and traffic lights went out, causing widespread traffic jams in New Delhi. Electric crematoria stopped operating, some with bodies half burnt, power officials said.
Power Minister Sushil Kumar Shinde blamed the new collapse on states taking more than their allotted share of electricity.
"Everyone overdraws from the grid. Just this morning I held a meeting with power officials from the states and I gave directions that states that overdraw should be punished. We have given instructions that their power supply could be cut," he told reporters.
New Delhi's Metro rail system, which serves about 1.8 million people a day, immediately shut down for the second day in a row. Police said they managed to evacuate Delhi's busy Rajiv Chowk station in under half an hour before closing the shutters.
S.K. Jain, 54, said he was on his way to file his income tax return when the Metro closed and now would almost certainly miss the deadline.
India's demand for electricity has soared along with its economy in recent years, but utilities have been unable to meet the growing needs. India's Central Electricity Authority reported power deficits of more than 8 percent in recent months.
The power deficit was worsened by a weak monsoon that lowered hydroelectric generation and kept temperatures higher, further increasing electricity usage as people seek to cool off.
But any connection to the grid remains a luxury for many. One-third of India's households do not even have electricity to power a light bulb, according to last year's census.