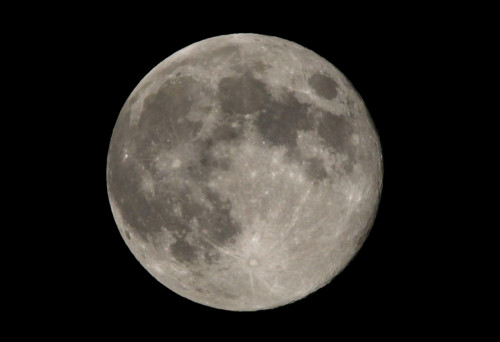 On 15 January, the New Year's first full moon will rise on the eastern sky at sunset. The first moon of 2014 will also be the year's smallest.
The smallest moon of 2014 will rise in UK at 4:12pm GMT. It will appear smallest at about 2 hours and 59 minutes after its rise when the moon reaches apogee, the farthest point to Earth in its orbit, about 405,500 km away.
The average distance of the moon from Earth is 384,400 km. At perigee, which is moon's closest point on its orbit around Earth approximately 363,300 km away, it appears the biggest in size when viewed from Earth.
The mini-moon of 15 January will apparently appear 4% smaller than the average full moon and about 14% smaller than the full moon of 10 August, which will be a supermoon, or the biggest full moon of the year, the National Geographic News reported.
The Wolf moon
January's full mini-moon is also called Wolf Moon in the northern and eastern United States, as per the tradition of Native Americans.
The Indians kept a track on the seasons by naming all the 12 full moons in a year. They named January's full moon Wolf Moon because when this moon appeared during the cold and snowy midwinter, wolves howled in hunger outside the tribes' villages.
January's full moon is also called Old Moon or Moon After Yule as it comes right after the end of yuletide days.
Where to watch mini-moon in UK
It seems difficult for Britons to spot the mini-moon easily as the Met office predicts a "generally cloudy" day with medium level clouds, mild breeze and rain at times across the United Kingdom, especially over eastern and central parts.
In London and south east England, "rain is likely to return into the evening, becoming more persistent for a time before gradually becoming more intermittent and showery during the early hours," the Met Office said in a forecast.