What do you get when you take a half-century old Mini, add Apple CarPlay and keyless go, then pour in 1,400 hours of some of the best car restoration man-hours you can find? The answer is this, the Mini Remastered by David Brown Automotive.
The British company is best known for its Speedback GT, a Sixties-styled sports car with more than a hint of Aston Martin DB5, dropped onto the chassis and engine of a Jaguar XKR. Costing £500,000, the Speedback GT was never destined to be a mass-market success, but it introduced DBA to the world and showed us what the Coventry-based company is capable of. It may also have inadvertedly kickstarted the restoration revolution which in recent years has given us 'new' versions of the Jaguar XKSS and original Range Rover.
Fast-forward three years, then rewind back to the Sixties once more and DBA is at it again – this time giving the original Mini a new lease of life.
With the Mini Remastered, announced on 6 April, the company takes the original city car, installs a refurbished 1275cc or 1310cc engine with "up to 50% more power" and a period-correct four-speed manual gearbox, spends 400 hours applying new paint, then a further 1,000 hours painstakingly nursing the car back to better-than-new condition.
There are new brakes and new suspension, redesigned rear lights and more 1960s chrome than you can shake Audrey Hepburn's cigarette holder at.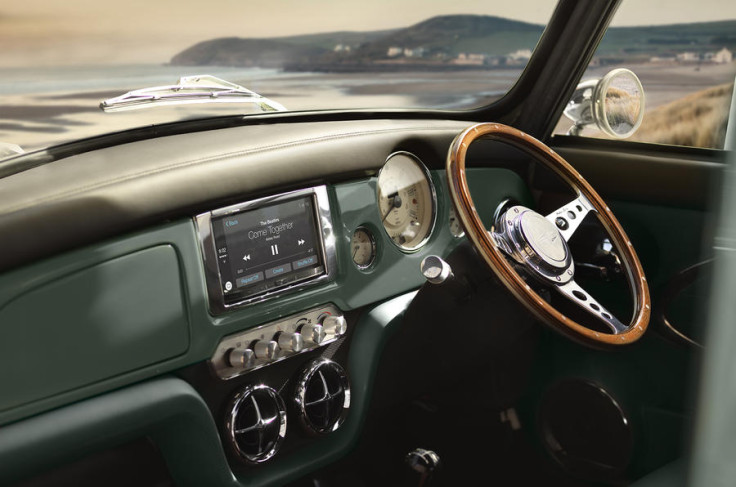 But while the exterior and running gear look almost identical to when they first left the factory decades ago, the interior has had a major 21st-century overhaul. The dashboard features a touch screen with Apple CarPlay for hooking up your iPhone's music and sat-nav apps.
Below the screen sits a row of new brushed metal controls for the heating, and to the right DBA has installed a set of three black-on-cream dials reminiscent of the originals.
There is also keyless go, so no need to lockpick the door and ignition each time you go for a drive, new leather seats and luxury carpets.
Production will be limited to between 50 and 100 cars per year, the company says, while prices start at £50,000 and stretch to £70,000 – a huge amount for an old Mini, but altogether more palatable when thoughts of steering the Mini Remastered through the back rounds of Notting Hill and Chelsea enter your head.