Tesla Model X review: Sci-fi style, or too clever for its own good?
We try out the electric Tesla Model X and its Falcon Wing vertical doors in the UK.
NOTE: This article is a contribution and do not necessarily represent the views of IBTimes.
Money buys space. A bulging bank balance gets you your own drive away from the curb-side battlefield of towns and cities, winding its way up to a gravel paddock at your front door. It gets your children into a school with a generous car park and space to pull up and drop them off without blocking a bus lane. It affords you those larger spaces in the airport long-stay on a floor which everyone else's Uber is literally banned from. It gets you an unrestricted view at the theatre, a private area at the bar and a box at the football. Even when space is tight, it gets someone else to worry about parking the car for you.
It also means you can buy the Tesla Model X and its big, beautiful 'falcon wing' doors. Extending upwards and outwards, they are a sight to behold and once fully open give aces of space to the second and third rows of seats. Parents with child seats have never had it so good, while adults can elegantly step aboard.
But they need space and time. Space because tight multi-storey car parks can be tricky due to limited horizontal and vertical margins, and time because overcoming this involves 'teaching' the Model X how much it can open its doors at a certain location.
Thankfully, just like teaching the air suspension to raise over speed bumps on commonly used roads, the doors will open by the same amount every time you visit the same parking space – handy on the daily commute to the train station, but still a bit of a palaver on a random trip to the shops. The doors solve a problem, certainly, but they often introduce another and they will continue to do so until we unlearn the act of a lifetime – opening car doors – and recalibrate our spacial awareness.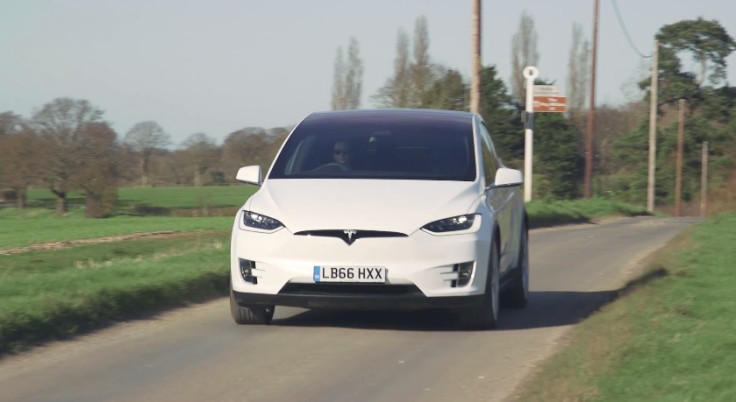 Enough judging a car by its doors. What about the rest of the Model X?
Truth is, it's all good from here on out. Anyone who has driven Tesla's saloon car, the Model S, will feel instantly at home with the Model X. The cars share the same chassis full of battery packs, the same electric motors, the same controls and a near-identical dashboard, interior and massive dashboard touchscreen.
Performance is also broadly the same as the Model S, making this 2,400kg, six-seat car insanely fast. The 90D version we drove accelerates from zero to 60mph in 4.8 seconds and has a top speed of 155mph. If driven carefully Tesla claim it can cover 303 miles between charges, although in the real world of mixed driving we believe 250 miles is closer to the mark.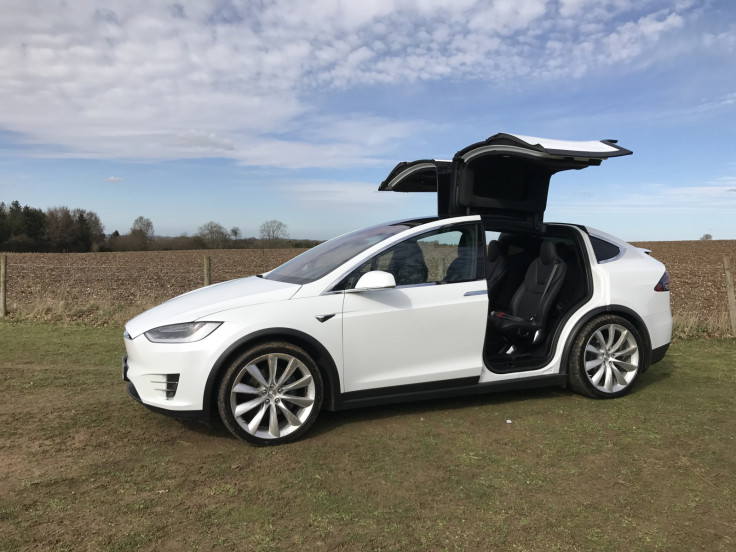 For those who want even more, the P100D version has a larger battery pack and performance to embarrass all but the quickest supercars. The 0-60mph sprint takes just 2.9 seconds and accelerating from 45mph to 65mph during an overtake takes 1.4 seconds; range is a claimed 336 miles but your mileage will, quite literally, vary.
As with most electric cars and especially high-powered Teslas, the Model X's ability to surge down motorway slip roads and sneak between traffic while emitting a pleasing sci-fi whine is immensely satisfying. Like steering a supercharged golf cart, the Model X can't help but put a smile on your face each time you press the accelerator, and while the full-fat P100D with Ludicrous Speed mode switched on is genuinely shocking, the 90D serves up enough performance to be fun without making your passengers feel sick.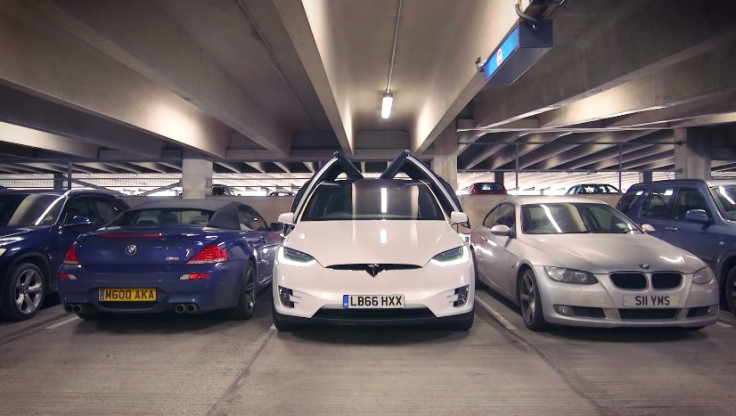 How many passengers your Model X can carry depends which version you buy. As standard this £90,000 90D has five seats. This can be upped to six in a 2-2-2 formation for an extra £3,000, or seven in a 2-3-2 layout for £4,000. Although seven seats will be the most practical option for most we loved our six-seat review car, as the space between the free-standing second row made the Model X feel a bit like travelling in a private jet, complete with mini gangway down the middle. Whatever you choose, the rearmost two seats fold flat and flush with the floor when not in use.
Behind the third row there is a boot which appears modest at first, but with the false floor taken out can easily swallow a week's food shopping or luggage for a small family's weekend away. And, being a Tesla, there is a second boot in the front due to electric motors being far smaller than a conventional engine; another few days' of shopping could fit in here without complaint.
We suspect us casually dropping in that £90,000 price tag might have surprised some readers, and indeed most people who approached us while filming the X were expecting something closer to £50,000. But this is the price one must pay for joining the early adopter club. Despite Teslas becoming a more common sight on British roads they are still rare, luxury goods packed with advanced (and very much still advancing) technology.
Speaking of which, the X can be bought with Tesla's Autopilot system which operates the accelerator, steering and brakes on the motorway (as long as you pay attention and keep in contact with the wheel).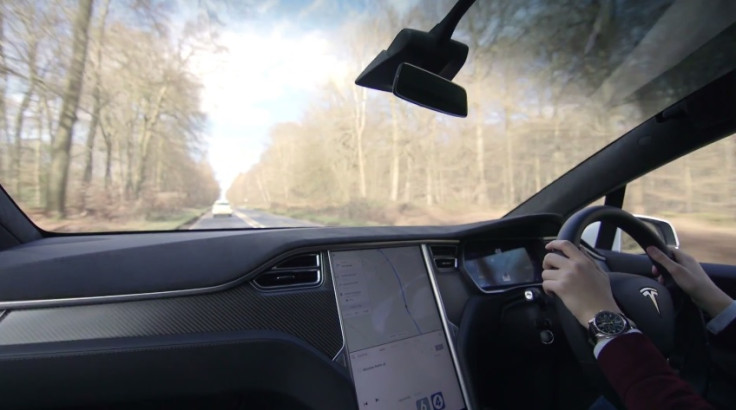 There's also 'full self-driving capability' which, for £3,000 on top of the £5,000 for Autopilot, adds more cameras and will, eventually, let the car drive itself once the software is ready and laws are in place to allow full autonomy. Inside, you can ask for a larger air filter and Bioweapon Defense Mode, which pressurises the cabin and locks out just about every form of pollution you could imagine. Go to town with the options list and the 90D can top £110,000, or serious Range Rover money.
But that's ok. Really, it is. Tesla just set a new personal record for car deliveries by shifting some 25,000 in the first three months of 2017, putting it on track to reach its 100,000 per annum target and beating last year's first quarter by 69%. Of those 25,000, just under half is accounted for by the Model X. Booming Model S and X sales is giving Tesla the cash to build its newest and cheapest car, the Model 3, which will arrive in the US in late 2017 and the UK the year after. It is tipped to cost around $35,000 and will give BMW 3-Series and Audi A4 owners something to think about; if a success, it could well go down as a pivotal moment in the history of the motorcar, an electric car for the people.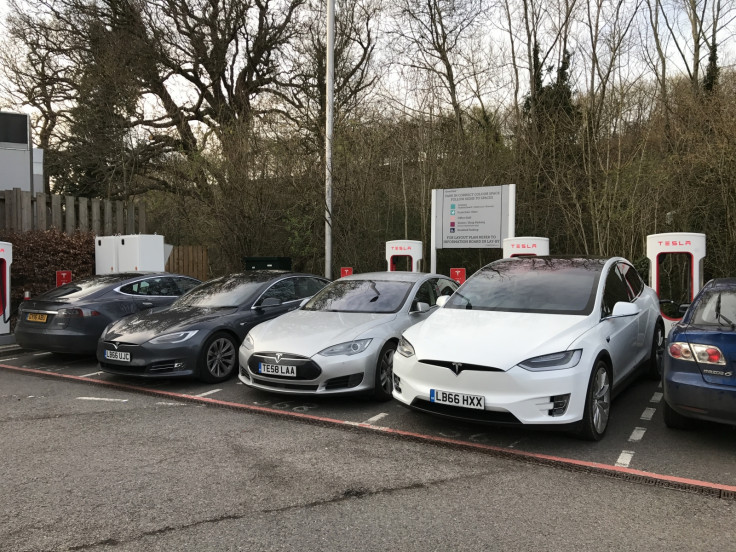 Until then we have the Model X and its funky doors. There's no doubt this car works better in California than Coventry. It thrives in open space, stretching its high-performance legs and extending its spaceship doors. It flounders in unfamiliar carparks but excels on the open road. Confuses the unacquainted but is fawned and obsessed over by the technologically-savvy. Admired by children and baby seat-carrying parents, but branded too smart for its own good by impatient millennials.
The Model S was the dawn of a new automotive era; a far-out future, but one which was blended with the subtle sensibilities of the present day. It looked and acted like a regular car because that is the path of least resistance against an industry largely allergic to change.
The Model X looks, feels and acts more like an artist's impression of that same future. Electricity still replaces petrol, touchscreens replace buttons and warp-drive performance is accessible with zero skill. It's the same basic recipe, but where some of the artist's flourish – and hubris – has been allowed to stay.
Those doors and their hubris – Elon Musk's self-diagnosed hubris, no less – add convenience, style and wow-factor with one hand, but bring complication with the other.
Forgive the Model X for that, give it some space, and clearly something special lurks beneath the Storm Trooper styling.
Worth more than Ford at the time of writing, Tesla is on a roll. And for tech-loving, gadget-craving early adopters with a Range Rover budget to spend on something left-field, you will find the Model X sitting pretty in a class of one.
© Copyright IBTimes 2023. All rights reserved.