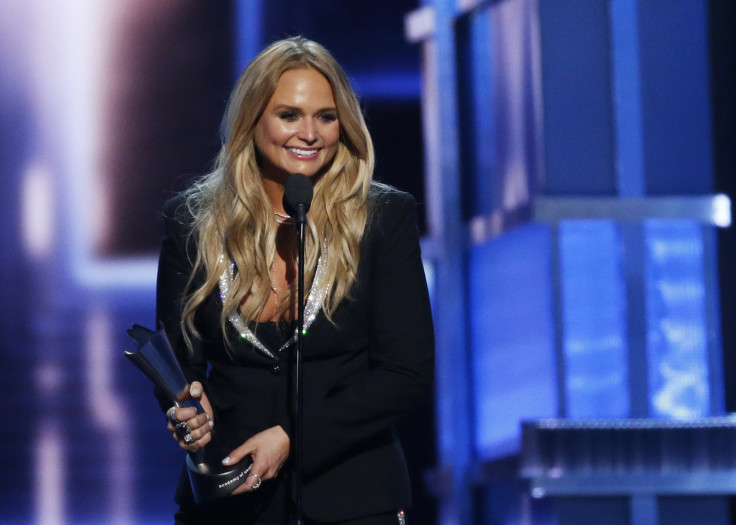 Country singer Miranda Lambert released a very personal album, The Weight of These Wings, which was believed to be inspired from her past heartbreak and relationship failures. Her music not only created a stir but also it won her an 'Album of the Year' award at the 52nd Academy of Country Music (ACM) Awards on Sunday night, 2 April.
A proud Lambert took to the stage with her team to accept the honour and revealed her inspiration behind the successful album.
"Thank you for letting me use my heartbreak and share it with you guys..." Miranda said about the album that is said to be inspired by her heartbreaking divorce from Blake Shelton in July 2015.
At least fans believe that the songstress' victory was well-deserved, and they couldn't be more proud of her even if that includes subtly throwing shade at her ex.
"Couldn't have been more deserved," commented one fan on Twitter. While another added, "Every time I see Miranda Lambert I think what a d**k Blake Shelton is... #ACMs."
Lambert's win resonated with several fans as they poured their heartfelt congratulatory messages on Twitter."Class act always. She deserves this. Heartache to Winner," shared a Twitter user. "Take THAT Blake," another one added.
While all this went down at the ACMs, Shelton was a no-show at the Las Vegas award ceremony on 2 April. Instead, the country crooner was spending some quality time back at his hometown in Oklahoma.
"Ah... Another Sunday evening in my Oklahoma..." Blake shared on Twitter holding a plastic cup with a Smithworks baseball cap sitting on his lap.
Shelton and Lambert called it quits in 2015 after four years of marriage. Following the divorce, the 40-year-old Voice coach went on to date pop star Gwen Stefani, while his ex-wife made headlines for her romance with a much younger Anderson East.
The Vice singer and her 28-year-old beau even showed up together at the pre-event red-carpet show on Sunday. While East sported a classic black tuxedo Lembert was in a white and gold plunging gown.