Misleading Marwan Photo Still Shows Truth of Civil War in Syria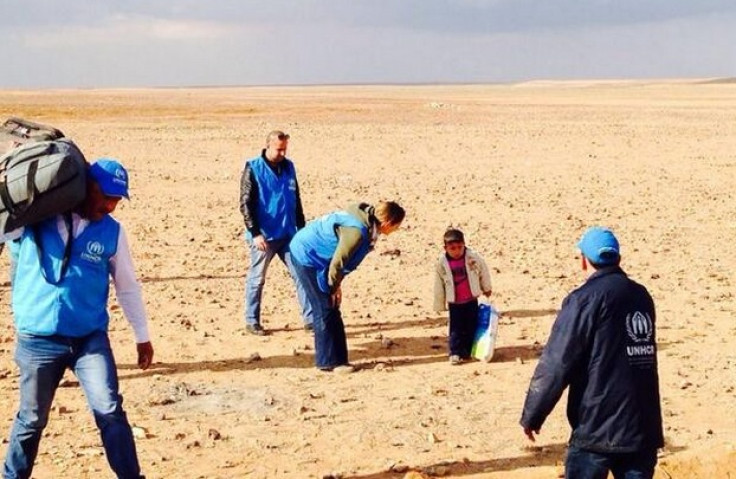 A photo of a young Syrian boy which tugged at the heartstrings of internet users for seemingly depicting a minor alone in the desert has been exposed as a clever case of photographic manipulation.
Outpourings of sympathy and concern greeted the image taken by an United Nations Refugee Agency worker in war-torn Syria.
It showed a lad aged four seemingly on his own in the Jordanian desert, holding a bag which almost reaches up to his waist from the ground, while his head was slightly bowed as a UN official bent down to talk to him.
The apparently intimate image seemed to sum up the general plight of refugees, especially children in Syria, fleeing fierce fighting between government forces and terrorist-backed rebel fighters.
But all was not as it seemed. What the image did not show was that there was in fact a convoy of refugees in front of young Marwan - including members of his family. Fortunately for Marwan, he had been reunited with relations around 10 minutes after the picture was taken.
IBTimes UK was among several news outlets unaware of this fact and which focused its coverage upon the ravages of war upon innocent people, as a result. That remains pertinent, but the image's actual context means it does not reveal this truth quite as sharply as previously believed.
A UN press officer said Marwan – not his real name, had been "temporarily separated" from his parents near the border of Syria with Jordan.
"He was a tiny bit behind his family. His family were ahead and he was just straggling behind. That's the story. He didn't enter as an unaccompanied minor, he was literally 20 steps behind," she told The Guardian.
"This family had walked for quite a bit carrying their belongings: a large group," said the UN official. "They walked part of the way through the desert, which you see in the background and this child of course [is] tired from the walking, and you see him carrying his little bag. He was a little bit behind his family."
The image spoke a larger truth about the suffering of children caused by the bloody civil war in Syria, which is nearly four years old, according to the official.
"But really this is about a children's crisis and innocent children are being continuously affected. We see this every day," the official added.
© Copyright IBTimes 2023. All rights reserved.