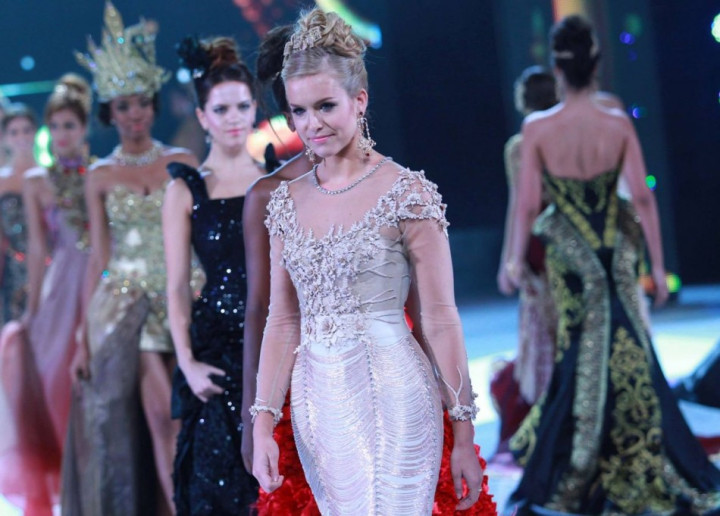 Miss England Kirsty Heslewood, has finally made to the top ten in one of the contests at Miss World 2013 pageant, which is taking place in Indonesia.
Miss World Organisation has announced the ten finalists of the Top Model contest, and Kirsty Heslewood is one of them. The other Top Model contestants are from the countries – United States, Italy, France, Brazil, South Sudan, Cyprus, Cameroon, Philippines and Ukraine.
The finalists of Top Model contest were chosen following a grand fashion show and catwalk featuring Miss World 2013 contestants in dresses designed by 50 Indonesian designers. Kirsty Heslewood cat walked in a silver gown embellished with beads and sequins.
Of the total 130 contestants, 127 participated in the Top Model show held at Westin Nusa Dua resort on the evening of 24 September.
Apart from the Miss World crown, the contestants of Miss World 2013 pageant are competing for six distinct awards, including Top Model, Beach Fashion, Sports and Fitness, Beauty with a Purpose, Talent Competition and the World Fashion Designer Award.
The pageant, which began early September in Bali, has so far revealed the eleven finalists of Beach Fashion contest and the winner of Talent Competition; Miss Indonesia, Vania Larissa, has won the talent round.
Winners of the rest of the contests, including the Top Model, will be announced at the finale of the pageant on 28 September when a winner will be crowned Miss World 2013 by the reigning Miss World 2012, Wenxia Yu of China.
Scroll down to view photos of the Top Model contestants participating in the model round.