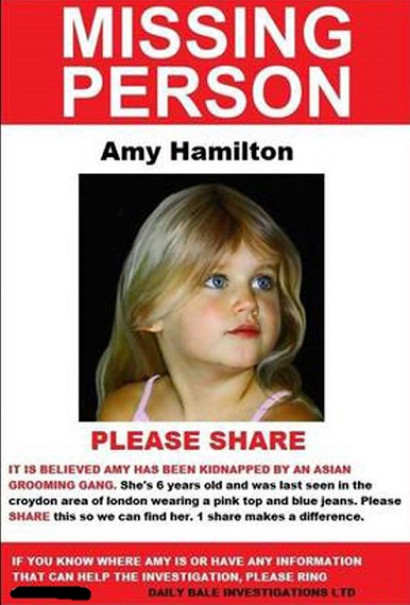 A poster which appeals for information regarding a missing white six-year-old girl who was "kidnapped by an Asian grooming gang" has resurfaced despite being a hoax created by a right-wing propaganda group.
The hoax missing girl poster, which uses a painting of a child taken from a Flickr account rather rather than a photograph, was created by far-right organisation, Britons against Left-wing Extremism [Bale].
The poster was originally passed off as genuine using the group's blog and social media accounts under the name: The Daily Bale.
The message on the hoax poster reads: "It is believed Amy has been kidnapped by an Asian grooming gang. She's 6 years-old and was last seen in the Croydon area of London wearing a pink top and blue jeans.
"Please share this so we can find her. 1 share makes a difference."
The poster was exposed as a hoax last October by the Croydon Advertiser , which reported how no child with the name Amy Hamilton or matching the description of 'Amy' had been reported missing in London or anywhere else in the UK.
The Daily Bale editor Steven Sodholmy said he created the fake poster in a bid to "raise awareness about the harsh reality of Asian grooming gangs".
Despite this, the 'missing' poster has reappeared online and has been shared thousands of times on Twitter and Facebook.
The perpetrators of the hoax even took to Twitter to brag about how many times their fake missing girl poster had been shared online.
One user wrote: "An amazing 5000 people shared our Amy Hamilton, Missing poster on facebook. Lets [sic] hope they catch the Asians responsible for taking her."
Croydon Police told the Advertiser after they first unearthed the poster's origins: "These types of hoax appeals are, at best, extremely unhelpful and distasteful and can potentially divert public attention away from genuine appeals.
"We rely on the support of the public and media to help us when we release appeals to find our most vulnerable missing people.
"The support we get for these appeals is fantastic, but these hoaxes can really damage the effectiveness of genuine appeals."
The Daily Bale were previously found out to have falsely claimed a two-month-old baby had been hospitalised after being thrown against a wall by an "Asian youth".
The image of the baby used in the hoax story was taken from the Change.org petition against child abuse and the assault never took place.
The Northern Echo even reports how the story appears to be loosely based on a 2005 incident in which a ten-month-old Asian baby was punched in the face by a white youth in Middlesbrough.