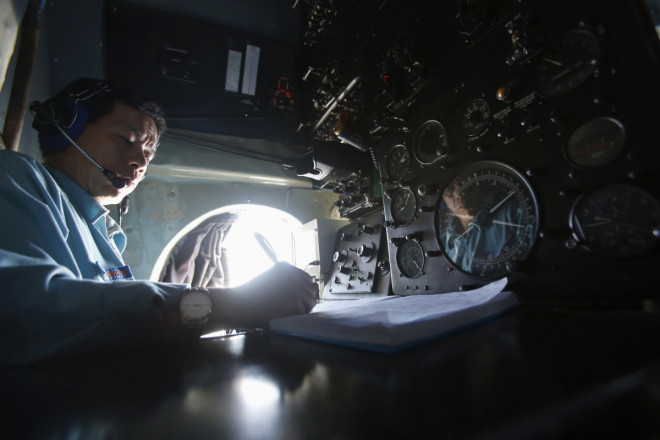 After days of intensive investigation, the Malaysian government is concluding that the Boeing 777 passenger jet might have been "deliberately diverted" with one or more people "skilled" enough to fly the plane.
Officials have said that the aircraft's transponder might have been intentionally switched off while flying the MH370 off its intended course.
The investigators have ruled out any catastrophic mechanical failure or pilot error behind the mysterious disappearance of the plane.
But it is still not clear whether the plane landed safely somewhere or crashed mid-air because of fuel shortage.
According to reports, with five hours of fuel backup and at an altitude of 35,000 feet, the Boeing 777 could cruise for an estimated 2,240 miles from where it lost all communications.
Here are some probable places where the plane could have landed or crashed.
The Andaman Sea: The Andaman Sea became the focus of the search operation after satellite data showed that the last "ping" from the plane was received while it was cruising over the sea.
Indian officials are combing hundreds of uninhabited islands in the Andaman Sea using heat-seeking devices.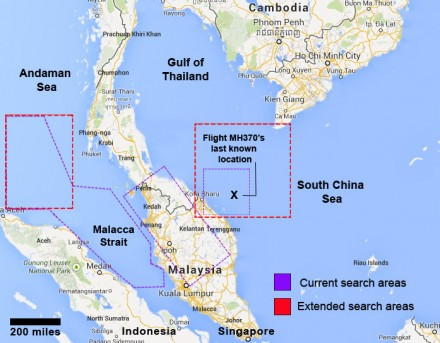 The Andaman Sea stretches till the south of Myanmar and comprises over 572 islands of which only 37 are inhabited while the rest are covered with thick forests.
The Indian Navy is also planning to widen its search operations into the Bay of Bengal.
The Malacca Straits: There are faint chances that the flight might have crash-landed in the Straits of Malacca but search operations over the waters of the Malay Peninsula have so far proved futile.
The Indian Ocean: The search for MH370 was expanded to the Indian Ocean for any possible wreckage. There are chances that the flight might have plunged into the Indian Ocean whose average depth is 3,900 metres.
The ocean has several islands including Comoros, Madagascar, Maldives, Seychelles and Sri Lanka.
Since the hijack angle gained more credence, new sinister theories about the missing plane are emerging.
Hijack: If the jetliner was commandeered midair, then it would require an expert pilot to dodge detection by radars across continents.
The aircraft would need a runway long enough to land and a huge hangar to hide it from the eagle eyes of hi-tech satellites.
As detected by satellites, the plane changed its course and flew over the Straits of Malacca towards the Andaman Sea.
The plane had enough fuel to fly for five hours from over the South China Sea (from where it went missing).
According to US officials, the plane might have crashed into the Indian Ocean or in an uninhabited island of the Andamans.
Another conjecture is that the "act of piracy" went wrong at a high altitude and the plane crashed over the Andaman Sea, the suspected destination of the plane.
Aviation experts suspect pilot suicide: The pilot might have delinked all the communication systems in the cockpit and flew way beyond its direction before plunging into the Indian Ocean.