As Malaysian authorities reveal communications aboard the Boeing 777-200 were deliberately disconnected and the plane flown off-course, the homes of the pilot and co-pilot have been searched. Now the younger of the two men, Fariq Ab Hamid, is once again in the spotlight following earlier revelations of smoking and inviting women into the cockpit.
So who is Fariq Ab Hamid?
Hamid is 27 years old, an apparently respectable and community-minded man with a love of football believed to be planning his wedding. His home is a two-storey house on the outskirts of Malaysia's capital Kuala Lumpur and he is described as a "good Muslim, humble and quiet" by the leader of his local mosque. Hamid's parents are said to be devastated by the disappearance of their son and the local community are praying for them all.
Although a pilot for seven years with 2,763 hours flying time, Hamid had only just graduated to flying 777s as a co-pilot. Recently he was filmed by a crew from CNN Business Traveler landing a virtually identical 777-200. CNN's reporter Richard Quest said he had made a perfect landing.
However, Malaysian Airlines were shocked when pictures and revelations emerged of Hamid posing with young ladies in the cockpit, in contravention of strict company rules.
Now police are investigating Hamid's psychological profile to see if there is any indication he may have either directed the plane to an unknown location or even deliberately crashed it in an act of suicide.
This is what happened in the case of Flight 990 in 1999, when Egyptian pilot Gamal al-Batouti is believed to have deliberately crashed his Boeing 767 into the Atlantic off the coast of New England with the loss of all 217 people aboard. More recently, pilot suicide was blamed for a crash in Namibia in 2013 when all 33 aboard were killed.
If one of the pilots did decide to bring the plane down, he would have to wait until the other pilot left the cockpit and then lock the door, making it virtually impossible for anyone else to enter.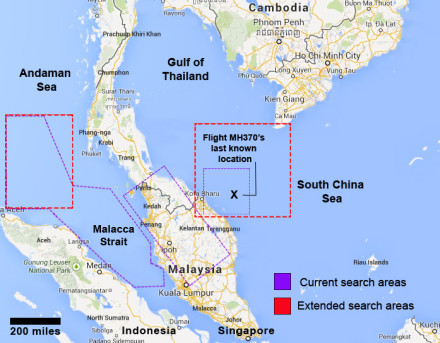 The background of 53-year-old Captain Zaharie Ahmed Shah is also being investigated, and he has a 777 flight simulator in his Kuala Lumpur home. However, he is a veteran pilot with 18,365 hours' flying time, a much-respected father and member of the community, so any such action on his part is thought to be extremely unlikely.
However as the search for the missing plane enters its second week, and new revelations emerge, these are some of the less outlandish suggestions being put forward to explain the fate of Flight MH370.
FLIGHT MH370 FACTBOX
Flight MH370 took off from Kuala Lumpur International Airport en route to Beijing at 00:41 on Saturday 8 March (16:41 GMT Friday).
About 50 minutes later, the aircraft lost contact with air traffic control.
No distress call was made.
On board, there were 12 Malaysian crew members and 227 passengers from 14 countries. They included 153 Chinese and 38 Malaysians.
Two Iranian male passengers, Pouria Nour Mohammad Mahread and Delavar Syed Mohammad Reza, were travelling on fake passports. Neither had any apparent links to terrorist groups.
No debris from the plane has been found in the international search.
At least 10 countries, including China, the US and Singapore, are using a total of 42 ships and 39 aircraft to search for the missing plane in the South China Sea, the Malacca Strait and the Andaman Sea.