Missing Malaysia Airlines MH370: F1 Savaged for 'Worst Minute's Silence Ever' Before Malaysia Grand Prix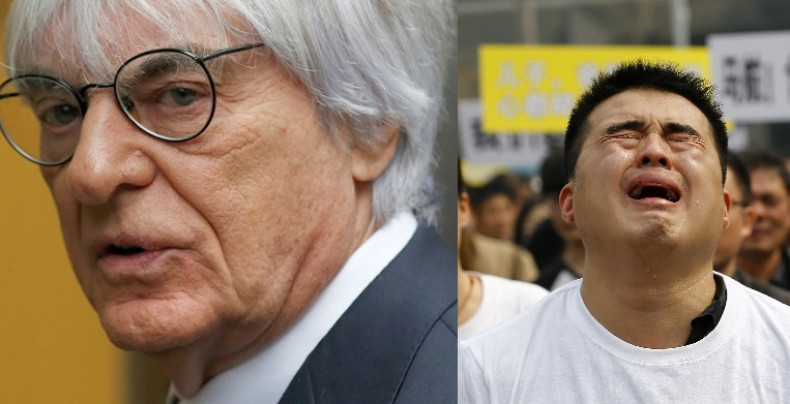 Formula One bosses have been savaged on Twitter for holding "the worst minute's silence ever" before the Malaysian Grand Prix to remember the passengers on flight MH370.
F1's organising team, headed by CEO Bernie Ecclestone, had agreed to hold a full minute of silence ahead of today's Malaysian Grand Prix to remember those on board the missing plane, now generally assumed to have crashed.
The entire roster of drivers competing in the race, including stars such as Lewis Hamilton, Nico Rosberg and Sebastian Vettel, joined in the vigil. However the act of remembrance came under fierce attack on Twitter as soon as it finished.
One Twitter user posted a stopwatch which purportedly showed the length of the silence:
Other users were equally scathing, suggesting the silence fell well short of a minute and was interrupted. Comments included:
F1 had pledged to pay full and sincere respect to those on board Flight MH370, which was travelling from Malaysian capital Kuala Lumpur to the Chinese city of Beijing when it disappeared.
Fifty of those on board the flight were Malaysian, and the event has become a national tragedy in the south-east Asian country with several other events, including a Christina Aguilera concert, cancelled over the past fortnight.
The helmets and cars of those taking part in the Malaysia GP are emblazoned with messages of support for those believed to have perished in the crash. Mercedes even ran with the slogan '#PrayforMH370' on their car during a demo run.
Mercedes driver Lewis Hamilton told the BBC: "It's devastating to hear about it [the crash]. All you can do is pray."
Hamilton's fellow Briton Jenson Button said: "It's good that the whole of the paddock are running tributes. It's devastating. I really feel for all the families. We will do all we can. It'll be difficult this weekend for all the Malaysian people."
Nico Rosberg, who won this year's opening F1 race in Australia, told reporters that he had "experienced first hand how everybody in Malaysia is thinking of families and friends.
"There are billboards and signs here with people who have put stickers up with messages on them."