Images of debris from the missing Malaysian Airlines flight MH370 have been captured by a Chinese satellite showing the "suspected crash area at sea."
The images show three "large, floating, objects" in the South China Sea, half way between Malaysia and Vietnam and close to the expected flight path of the aircraft.
The largest of the three pieces of debris is said to be 78-feet by 72-feet.
China's State Administration for Science, Technology and Industry for National Defense announced the discovery of the images along with an image of an oil slick in the surrounding area.
The images were captured on March 9, the day after the plane went missing, but have only just been released by Chinese authorities today. (March 12)
The sightings represent a crucial development on the fifth day of the search for the Boeing 777, which disappeared without a trace on Saturday (8 March.)
A former US aviation official said the images represent the first and only solid lead in the search for the Boeing 777.
"These images are the first solid piece of evidence we have that they were on the correct flight path,' said Peter Goelz, the former managing director of the US federal National Transportation Safety Board.
It is not, however, the first time that officials have announced sightings of floating objects that could be linked to the missing airliner.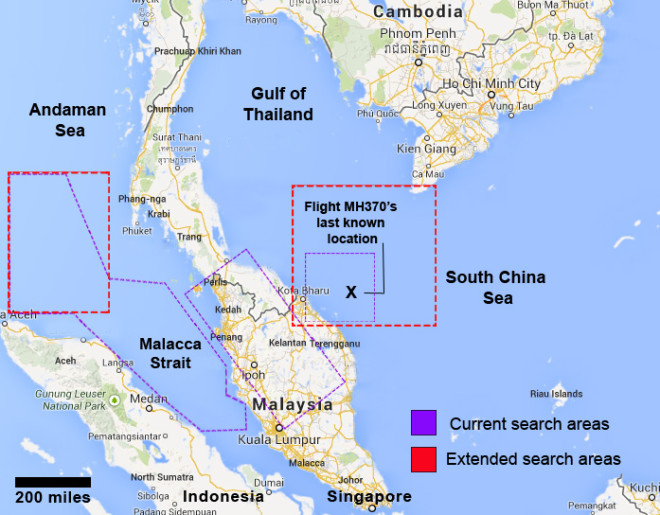 It ws also revealed that the last communication received from a Malaysia Airlines plane just minutes before the plane disappeared over the South China Sea, did not indicate that the pilot had any concerns, nor did he issue a distress signal.
Flight MH370 replied "All right, roger that" to a radio message from Malaysian air control.
42 ships and 39 aircraft from several countries are still involved in the search for the plane, with U.S. officials confirming they have dispatched a team of safety experts including FBI agents to Southeast Asia to assist in the investigation of the Boeing 777.
Foreign Secretary William Hague confirmed that the UK have also offered assistance with investigations.
The flight was declared missing 90 minutes after it was due to land. There have been no sightings of the 227 passengers and 12 crew on board.