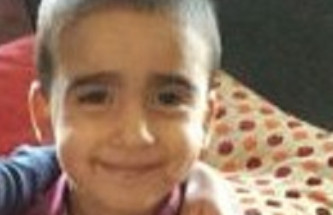 Police in Scotland have activated the national Child Rescue Alert system in a bid to help find missing three-year-old Mikaeel Kular.
People in Edinburgh have been urged by police to continue to be on the lookout for the boy, who has not been seen since his mother put him to bed at his home in Ferry Gait Crescent, in the Drylaw area of the city, at around 9pm on 15th January.
By launching the national Child Rescue Alert, which is supported by all UK police forces, system, anyone who calls 0300 200 0200 with information on Mikaeel or his whereabouts will be answered by a dedicated member of staff.
Supt. Liz McAinsh also urged the residents of Edinburgh to continue to help with police enquiries by checking their surrounding areas for signs of the three-year-old.
McAnish told a news conference: "I would ask local residents to think about their own homes, their gardens, their buckets, their outbuildings. Anywhere you think a three-year-old boy might be. Keep your eyes open in parks as well.
"We are using all the resources at our disposal to find this boy."
The coastguard team and a police helicopter have already been used as part of the search. His jacket and shoes are also been reported missing from his home.
Police are saying there is no evidence of criminal activity but are "keeping an open mind".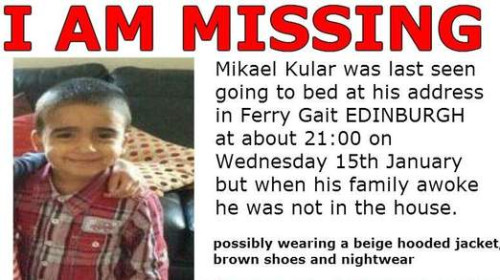 Mikaeel is described as being of Asian appearance, two feet tall and of slim build. He was possibly wearing a thigh length beige jacket with grey fur lined hood, black gloves with multi-coloured fingers, dark navy blue jogging bottoms, a grey pyjama top featuring an embroidered turquoise dinosaur on the chest and brown Clark shoes with two Velcro straps.
He has a faded scar on the bridge of his nose and a sore on the left hand side of his mouth.
Police added the photograph of Mikaeel, which has been widely circulated during the search, was taken at Christmas and his hair maybe slightly longer now than is featured in the picture.
McAnish added: "We know his jacket and shoes are missing from the house. We don't know yet what has happen to him, but him going for a wander is one line of enquiry we're following up.
"We have air support out, we have dog support, we have resources coming from all over Scotland.
"He's described as a friendly and playful wee boy. He has four brothers and sisters. He has a twin sister who I'm sure will now be wondering what's happened to her wee brother.
She refused to comment on whether Mikaeel's family are currently involved in a custody battle with the child.