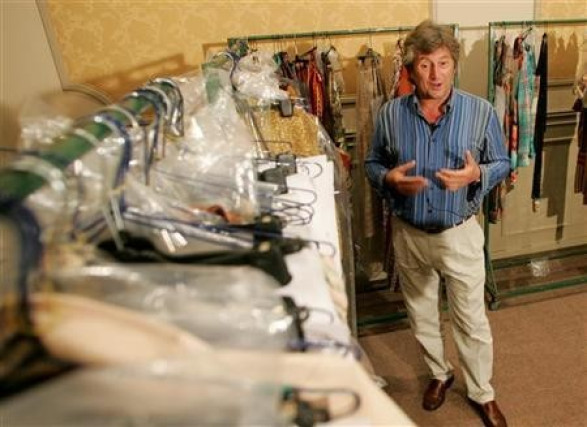 The family of missing Italian fashion executive Vittorio Missoni has called on Venezuelan authorities to widen its searches because they suspect the plane he was aboard was hijacked.
Several suspicious inconsistencies are fuelling speculations that the BN-2 Islander plane carrying Missoni, 58, his wife, Maurizia Castiglioni, Italian businessman Guido Foresti and his wife Elda Scalvenzi, and two Venezuelan crew members could have been hijacked.
"We hope they are all well and we wish the searchers are going to be broadened in all directions, not neglecting any trail," Missoni's sister Angela told Il Giornale.
"One option is that the plane has been hijacked," Angela Missoni's partner Bruno Ragazzi told La Repubblica.
"What is certain is that there is no news and that criminals have a strong presence in the area."
The small plane disappeared shortly after leaving the exclusive archipelago of Los Roques for Venezuela's capital of Caracas, at the end of last week.
A team of 400 men with helicopters and rescue boats has been searching the sea strait dividing the two locations for days without finding any sign of the aircraft.
"Please help me find my father!" tweeted Missoni's son Ottavio two days after the incident.
According to Venezuelan authorities, no emergency signal or SOS was launched by the 72-year-old pilot Germán Marchán and the plane had enough fuel to cover a three-hour journey, despite Caracas being just 45 minutes away from Los Roques.
Moreover one day after the plane had disappeared one of Foresti's sons received an automatic text from his father signalling Foresti's phone was again reachable.
However, according to the pilot of a second plane also heading for Caracas from Los Roques, that took off just a minute after that of Missoni, it was lost in bad weather conditions.
"I saw them vanishing in front of me," Venezuelan pilot Enrique Rada said according to La Stampa.
"They were swallowed by a cumulous cloud. It must have been a lightening."
Vittorio Missoni is the company's marketing director, of the fashion label founded by his father Ottavio, 91.
Among the various Misssoni's fan celebrities that would be relieved to know he still alive, is the Duchess of Cambridge, Kate Middleton, who often wore Missoni's garments.